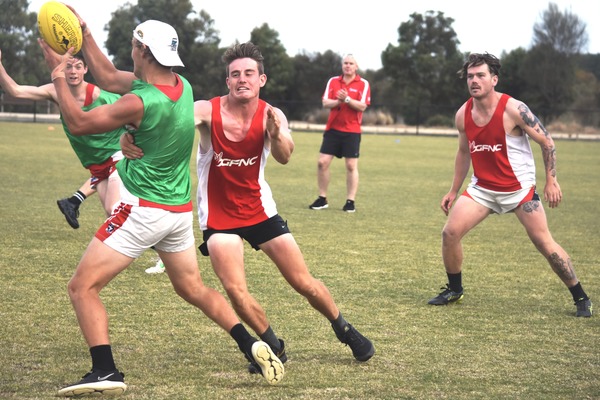 By Mark Heenan
The Grubbers have hit the track and commenced their pre-season training under new senior coach Pete Davey.
Ocean Grove senior and reserves footballers began their pre-season this month on 2 December.
Preseason training occurs twice a week on Mondays at Devlins Road Oval at Oakdene and Wednesdays at Shell Road at Ray Menzies Memorial Oval in December.
The Voice was on hand to capture photos from the club's third pre-season training session on 9 December.
Davey said the pre-season training focus was winning contested ball and to build a strong fitness running base under new head of fitness and well-being manager Dean Casamento.
"Our emphasis is on winning the contested balls and a lot of our training has been (and will continue to be) about being hard at the contest and putting our head over the footy," Davey told the Voice.
"At the moment we're looking to cover around 21 kilometres in a week, so we monitor their running each session to make sure we're hitting those incremental targets each night."
The new senior coach confirmed the Grubbers had invested in 'youth' following their Under 19 Division Two premiership triumph in 2019 rather than fill a big shopping list of new recruits.
"We want to build success that is sustainable," said Davey, who coached Bacchus Marsh in the Ballarat Football League in 2019.
"Our aim is to get the club back to playing finals football every year then competing in and winning grand finals on a regular basis and we believe we have a group of young men who will get us there."
IN player arrivals former Newtown and Chilwell GFL player Harrison Dolley joins star ruck Andrew Jarvis, who returns to club, Andrew Stretton and Harley Pearce, a former Grubber junior, in 2020.
OCEAN Grove concludes its pre-season training prior to the Christmas break on 18 December before it resumes on Wednesday 15 January.
IN other developments, Ocean Grove opens its 2020  campaign with two twilight matches with a home clash under lights against Newcomb in Round 1 and a Good Friday twilight clash against Torquay at Spring Creek Reserve at McCartney Oval in Round 2.
The Grubbers play Battle of the Bridge clashes against 2019 premiers Barwon Heads in Round 7 and Round 14, while Ocean Grove hosts Geelong Amateur on Anzac Day in Round 4.