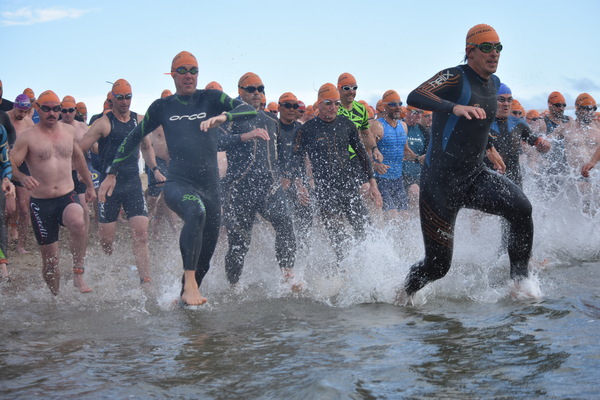 By Mark Heenan
By Mark Heenan
Hundreds of competitors took part in this year's fifth annual Barwon Heads Triathlon on February 16.
Torquay's Adam Conquest was the first across the finish line, thanks to a brilliant 14-kilometre bike leg.
Conquest maintained strong speeds on the bike leg, which took in the Thirteenth Beach surrounds.
Competing in the 40-49 age category, Conquest won in a time of 41.07 and finished ahead of last year's winner Kirby Bourke (41.35) and Anthony Goss (42.20).
Conquest and Bourke have won four of the past five Barwon Heads Triathlon events.
Competitors battled windy conditions in the Bellarine region's only annual triathlon held alongside the picturesque Barwon Heads bridge surrounds.
Barwon Heads Triathlon event director and race organiser Lincoln Beckworth said there were more than 850 competitors, including individual and team entrants.
Beckworth confirmed 120 competitors from Ocean Grove and Barwon Heads competed, while for about 350 participants it was their first ever triathlon.
Ocean Grove Surf Life Saving Club looked after the water safety with the swim leg held on the Barwon River.
"There was a great atmosphere with huge crowds and everyone having fun," Beckworth told the Voice.
"I was rapt to see so many people there competing and having fun and see such great support from the local community."