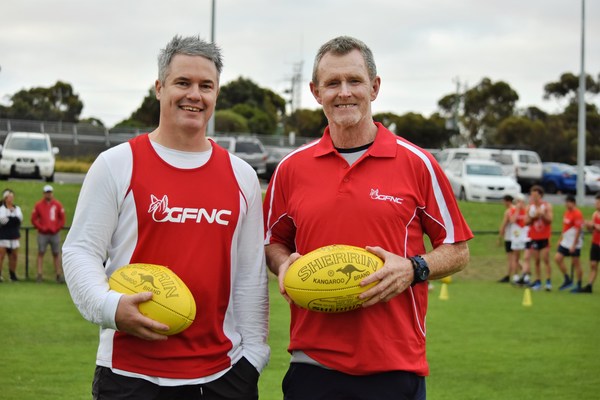 By Mark Heenan
A familiar face was back in red and white at Ocean Grove senior football pre-season training this month.
Former Western Bulldogs AFL coach Brendan McCartney, a four-time Ocean Grove Football premiership coach from 1994-97, had an active role at Grubbers' training at Ray Menzies Memorial Oval on February 5.
New Ocean Grove senior coach Pete Davey said McCartney, who will help mentor Davey in 2020, wanted to help out at training.
"Brendan has asked to come down … this is the best part about having Macca involved, he wants to get involved.
"It is funny watching the guys tonight (February 6) it is like this is the most attuned to coaching (they've been) since day one," Davey said.
"They (players) have been watching and learning, you can see in their eyes they are very keen to extract as much as they can."
McCartney assisted and oversaw various club training drills on the night.
He said the youthful Grubbers showed good intent on the track and he was impressed by the club's new direction in promoting future home-grown youth.
"I am passionate about developing junior footy," he said.
"For me, it is probably a bit personal. I want to give back to a club that was really important in my life – I loved the five years I had here (at Ocean Grove), it was an incredible working experience."
"The nucleus is here, there is a really good off-field group of people, really clear about what they want.
"There is a fantastic coach in place and coaching group."  
McCartney departed the Melbourne Demons AFL senior assistant coaching ranks in 2019.
He is the current Geelong Falcons' girls coach and runs a footy school across Victoria, including the Geelong region, which helps the education and development of junior football coaching in schools.