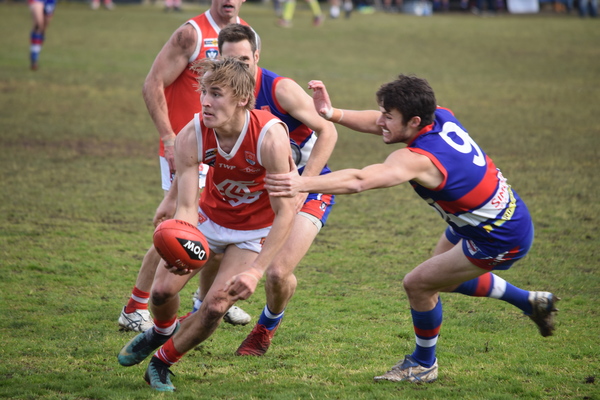 By Mark Heenan
Ocean Grove Football Netball Club president Tony Potter says its senior football side must keep pace with the BFL's elite teams to push for finals in 2019.
It was the second year in three seasons the Grubbers had missed senior footy finals.
Ocean Grove (10-8) scraped into fifth spot in 2017 and was bundled out by Modewarre in last year's elimination final under first year coach Paul Lynch.
This season the Grubbers (10-8) won the same amount of games but finished in sixth spot.
Potter said despite two wins from the last two matches, it was a disappointing end to season.
"Very disappointing, but it just shows the quality of the opposition in the Bellarine got a lot stronger," Potter told the Voice.
"We have to get stronger with it."
The Grubbers started the season well and by Round 7 had a 5-2 record, but big losses to Torquay and Modewarre in the back half of season inevitably killed off their finals hopes.
A loss to Drysdale in Round 8 at home by 13 points also did not help the club's finals aspirations.
Between Round 12 and 16 Ocean Grove lost three out of four matches.
Prior to losses to Torquay in Round 15 and Modewarre in Round 16, the Grubbers' average losing margin was under 30 points.
Despite two defeats to BFL ladder leader Barwon Heads in 2018, the Grubbers were competitive against the Seagulls with a 21-point loss in Round three and 26-point loss in Round 14.
On the flip side Ocean Grove defeated this year's finals contenders Geelong Amateur and Queenscliff twice in 2018.
Ocean Grove coach Paul Lynch said the development of senior youngsters Isaac Wilkins, Riley Maloney and Mitch Lindkvist was a pleasing sign.
All three players came from the Grubber juniors. .
Rising forward Matt Caldow finished with a surge with four goals in Round 17 and three goals in Round 18.
"I reckon 'Rizzer' (Riley), Isaac and Mitch have all improved on last year – that's where your improvement has got to come from – the kids coming up through the system," Lynch told the Voice.
"They're are all close mates and have come up together and they are doing the work and they are starting to get the rewards now, which is good."
The Grubbers are expected to have a battle on their hands to keep key ruckman Andrew Jarvis after his inclusion in the Vic Country squad in 2018.
"I have no doubt he is attracting attention," Lynch said.
"Obviously with a man that is in the Vic Country squad there is going to be plenty of phone calls come his way – we understand that and if he wants to play GFL footy we are not going to get in his way."
IN other club developments, Ocean Grove reserves grade finished fifth and will play in an elimination final against Barwon Heads this weekend.
All Grubber senior netball grades advanced through to finals including A, B, C, D and E Grades finishing in the top five.
MEANTIME the inaugural Ocean Grove senior women's football made their first finals campaign and will meet Barwon Heads in an elimination final this weekend.