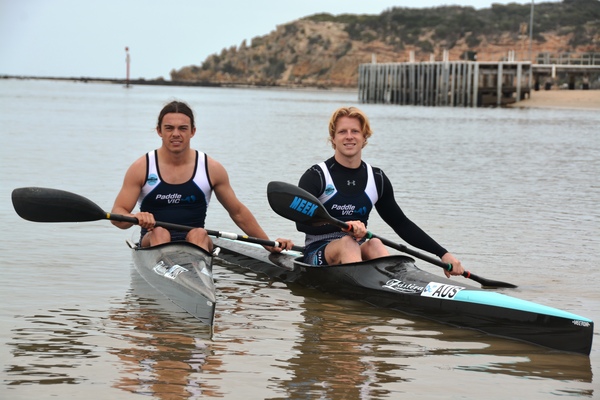 By Justin Flynn
When best mates Seamus Spanner and Bryce Newton drove to Adelaide for the Australian Canoe Marathon Championships, it was more in hope than expectation.
Only a few weeks earlier, Seamus' K2 partner, Joe Burton from Albury, had sliced his Achilles open and it appeared his dream of going to the World Championships in Portugal was over.
But Seamus asked his mate Bryce if he'd like to at least give the K2 a go and see what happened.
The 18-year-old Ocean Grovers then drove all the way to Adelaide for the championships with borrowed kayaks strapped to the roof of their car.
Bryce had never even been in a kayak before, although the two are expert at the surf ski with Ocean Grove Surf Life Saving Club.
On the Saturday, they both entered the K1 event, which Seamus won. Bryce only entered to get some practice for the doubles event the following day and came seventh.
The race proved gruelling, but ultimately the pair came runners-up in the K2 event and were ultimately successful in qualifying for the World Championships in September.
"It's pretty much the same skill set as the surf ski," Bryce said after his first time in a kayak.
"My goal was to stick in time with Seamus as much I could. I was pretty much there just to hold on.
"I've been given this really good opportunity."
Seamus, who has genuine ambitions on becoming a kayaking Olympian, said competing in the surf ski event with Bryce proved timely.
"We were already pretty much in sync by doing the surf ski together," he said.
"I just told Bryce to keep up with my stroke and he did.
"I think when we crossed the finish line, I just said 'good job' – we were pretty stuffed."
The pair have been training with Mick and Kate Leverett, both accomplished paddlers, of Paddle Life in Barwon Heads. Mick Leverett has been Australia's most consistent marathon kayaker for almost two decades.
Both Seamus and Bryce said they would not have been able to qualify without the help of the Leveretts, Barwon Heads Canoe Club and Ocean Grove Surf Life Saving Club.