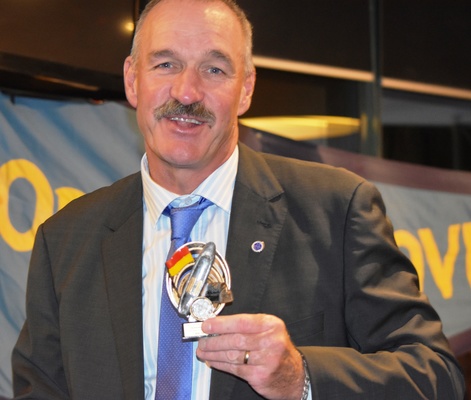 The final curtain was drawn on another successful senior season with the Ocean Grove Surf Life Saving Club annual presentation night on Saturday 26 May.
The popular end-of-season awards ceremony for 2017/18 was shifted to Ocean Grove Bowling Club to accommodate the current Ocean Grove SLSC building re-development.
Around 150 people attended the club's night of nights – it was the first time in more than five years the Ocean Grove SLSC senior presentation was not at its main premises along Surf Beach Road.
"The Bowls Club was very accommodating and a terrific venue and local DJ Slav was a real hit," said Ocean Grove SLSC Social Manager Amenah McDonald, who helped organise the night.
Ocean Grove SLSC president David Pavia said it was a fantastic season across all parts of the club.
Ocean Grove SLSC were crowned champions at the Victorian Surf Life Saving State Championships for second year in a row following its success at Apollo Bay in March.
Outside surf lifesaving competition the club logged more than 5000 volunteers patrol hours with 220,000 visitors heading to Ocean Grove beach across the season.
Significant challenges were faced with the clubroom building demolition works while the club's major fundraiser the Rip to River Classic was postponed until 18 February after extreme heat forced the race to be cancelled on 6 January.
"The OGSLSC has had a great season across all aspects of club life," Pavia said.
"Our core mission is to keep the beach safe and we logged over 5000 volunteer patrol hours."
Awards were given to outstanding club individual performances following the Aussies Surf Life Saving Titles at Perth-based Scarborough Beach in Western Australia in April.
A standing ovation was given to Ocean Grove SLSC Training and Assessment Manager Bec Sampson on the night who won the coveted John Bishop Memorial Best Club Person Award.
Club lifesaver and competitor Gabby Hannan was presented with the Barry Renton Memorial Best Competitor Award from Ocean Grove SLSC life member Dave Renton.
Wesley Prosser was awarded the Fred Leiper Memorial Best Patrol person after clocking up more than 115 hours as a volunteer patrol lifesaver in 2017/18, while Amalee Freestone won the Bob Millett Memorial Lifesaving Improvement Award.
IN other club developments, Ocean Grove SLSC president David Pavia is hopeful next year's end-of-season annual awards presentation night will take place at the club's newly re-developed building.
The demolition of the existing club building occurred in May with Ireland Brown Constructions appointed as the builder.
The Ocean Grove SLSC multi-million dollar re-development will be Ireland Brown Constructions fourth working alongside a foreshore after their previous project work at Fairhaven Surf Life Saving Club, Portsea Surf Life Saving Club and Frankston Yacht Club.
"The Ocean Grove Surf beach building development is progressing well with Ireland Brown Constructions," Pavia said.
"I hope that the next presentation night will be held in the OGSLSC clubrooms.
"Demolition of the old building was quite quick, but given its light weight construction, that was to be expected.
"Working on sand poses some unique challenges for the builders and the pace of works will be dependent on weather conditions and other factors."
OCEAN GROVE SLSC AWARDS – OUTSTANDING ACHIEVERS IN 2017/18
Barry Renton Memorial Best Competitor Award: Gabby Hannan
John Bishop Memorial Best Club Person Award: Bec Sampson
Fred Leiper Memorial Best Patrol person: Wesley Prosser
Bob Millett Memorial Lifesaving Improvement Award: Amalee Freestone
Men's Rescue win at IRB Interstate Championships: Brayden Allan, Nick Giblin
Gold Medal 2km Beach Run 55-59 female age group at Aussies: Susan Howell
Gold Medal Single Ski 55-59 male age group at Aussies: Bill Strachan
Bronze Medal Single Ski 40-44 female age group at Aussies: Amenah McDonald
Open & U 19 State Irons: Jesse Coulson
For making finals of board rescue at Aussies: Tim Hannan, Tyler Walsh, Kim Gilling, Marcus Bird- story and pictures Mark Heenan Media