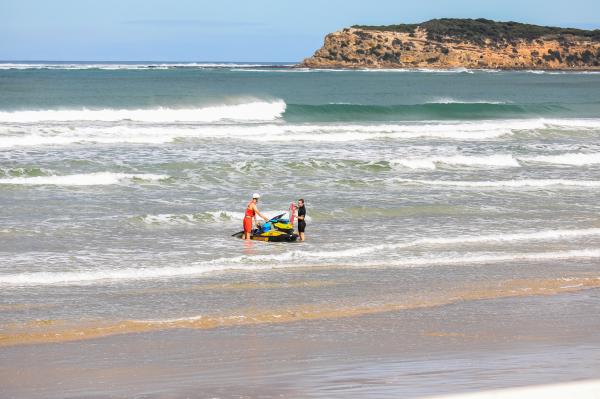 By Luke Voogt
Off-duty lifeguards rescued a surfer stranded in a rip for more than an hour off Ocean Grove main beach on Monday morning.
Ocean Grove Surf Life Saving Club (OGSLSC) was not officially manned during the incident, after Victoria's lifesaving season concluded the day before.
But Life Saving Victoria (LSV) members were onsite doing logistical work.
"It's just lucky they were still there," said Ocean Grove resident Neville Forster, who first spotted the in-trouble surfer about 10.15am on a walk with wife Shirley.
"I don't know how long he had been out there.
"We kept an eye on him – being a fellow surfer you keep an eye on the water all the time.
"We did our walk up to RAAFs [Beach] and back, and thought, 'he's not going to get out of there'.
"He tried to paddle out of the rip a couple of times but kept getting dragged back in. When he realised he couldn't get out he put up his board like a tombstone.
"Once he put up his board I thought, 'he's pretty well had it'. He was about half the way out to bommies [the Bombora reef].
After seeing the signal for help, Mr Forster phoned Ocean Grove Coast Watch, which in turn notified water police and other authorities.
"[Ocean Grove Coast Watch] said it would be about 20 to 30 minutes before they could organise a boat to get out there," Mr Forster said.
But an LSV member near Dave Renton Patrol Tower also saw the incident unfold and rushed to grab a jet ski from OGSLSC and towed the man back, Mr Forster said.
"He was just standing at the promenade. They'd been training here all week.
"Once [the surfer] got out I went down to see how he was."
The surfer said he was a beginner, according to Mr Forster.
"He was relieved when he got back to shore," he said.
"It was good they were able to help the bloke out."