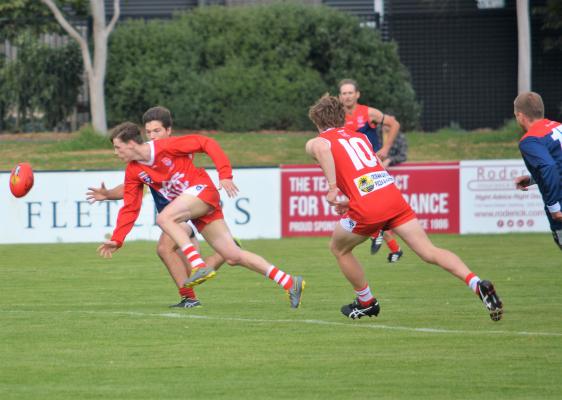 By Justin Flynn
Ocean Grove showed that it can match it with the best sides in the Bellarine Football League after an encouraging performance against Modewarre.
The young Grubbers were on the brink of an upset win trailing by three points early in the last term, but the Warriors ran out the game stronger to win by 30 points, 13.15(93) to 9.9(63).
Coach Pete Davey said his side was "outstanding for 75 minutes".
"We proved to ourselves that when we trust our method and combine it with fanatic pressure and energy, we can compete with the top sides even on the road," he said.
"At the mid point of the final quarter, we were screaming out for a scoreboard reward for the mountain of work we were doing but unfortunately it didn't come and they were able to kick two in succession that took the wind out of our sails.
"We had put so much effort into getting ourselves in a winnable position that when the game slipped a little beyond reach, we lost our grasp completely and they were able to add some junk time cream to the final margin."
Modda led by a point at three quarter time and an early goal in the final term stretched the lead. But a quick reply saw Grove trail by less than a kick.
The Warriors then steadied with two goals and went on to win.
Despite the final term fade out, Davey said there were positives to take from the match.
"We were able to play our style of footy for a prolonged period of time," he said.
"Against Torquay we did it in the second quarter, against Portarlington we did it in the third quarter but on Saturday, we managed to do it consistently well for three quarters.
"It's only a very small sample size but our boys are improving rapidly with each outing and that is incredibly exciting to watch and be a part of."
Davey also identified areas for improvement.
"It's improving but our transition from attack to defence when the football is turned over in our forward 50 still needs work," he said.
"We allowed two 12-point goals on Saturday where we should have scored at our end, but turned it over to Modewarre who were then able to go end-to-end and score a goal at the other. That should never happen.
"We are also learning some very harsh lessons about what happens when players give advice to umpires and that is something that just has to end, immediately."
Ocean Grove faces a resurgent Newcomb at home tomorrow and apart from Barwon Heads and Torquay, the competition looks very even.
"I think the evenness of the Bellarine makes it a really interesting competition to track," Davey said.
"I've come from leagues where there have been outliers at each end and that can make for some ordinary fixtures.
"From my limited experience at Ocean Grove, there is an element of the unknown in the BFL that keeps everyone on their toes and could well lead to some surprising placings come the end of the home and away season."
In the reserves, Modewarre won a thriller by three points, 6.14(50) to 7.5(47).
Cory Connor booted six of Grove's seven goals in a standout performance while Nick Chapman, Adam Donald, Myles Fletcher, Thomas Rouget and Ben Potter played well.
In round two, Ocean Grove sprinted away from Portarlington in the second half to win by 83 points at Ray Menzies Memorial Oval.
The first half was a tight affair with Grove always a few goals in front and never really looking like losing. Final scores Ocean Grove 15.16(106) to Portarlington 3.5(23).
A 25-point half-time lead turned into a second half goalfest with the Grubbers slamming on nine to Port's one.
James Paterson booted four for the winners and Tom Waters kicked three.
Will Brohm was best afield with his leadership and used the ball well, including a left-foot goal on the run in the second term when his team badly needed it.
Paterson was in everything and Jake Wilkie also played well.
Stephen Walton never gave in for the Demons and Brayden O'Hanlon looked dangerous, booting two goals.
In the reserves, Ocean Grove was merciless in holding Portarlington goalless on the way to a 162-point win. Final scores Ocean Grove 24.21(165) to Portarlington 0.3(3).
Cory Connor booted 10 goals while Nick Chapman and Lachie Bone were busy.