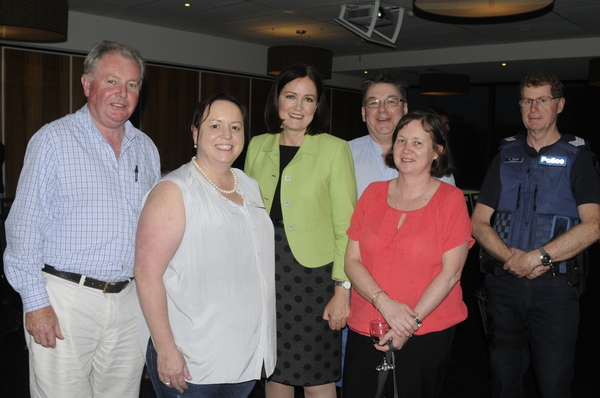 By LUKE VOOGT
CORANGAMITE MP Sarah Henderson met with the Ocean Grove Business Association (OGBA) last Thursday, to promote the Federal Government's Safer Streets Program.
"I'm really keen to work with you and support you with the Safer Streets Program," she told the OGBA members at the Ocean Grove Bowling Club.
Ms Henderson said the $20 million second round of the program would open in the next few weeks.
She broadly outlined the criteria for funding, which will include evidence such as police references, crime statistics and crime impact statements.
The Federal Government is yet to release full criteria for this funding round, which will only be open for four weeks.
"It's a very quick turn around," Ms Henderson said.
"We need to do everything to make sure you get heard."
Cleo Fine Jewelry owner Andrew Nicholl, whose store was broken into earlier this year, is cautiously optimistic about winning Federal funding.
"We're hopeful, that's all we can say," he said.
Mr Nicholl was just one of the traders disappointed when the State Government rejected a council application for CCTV projects in Geelong.
"It was disgraceful all the applications in the Geelong region were knocked back," Ms Henderson said.
Local resident Peter Molloy vented his frustration at the lack of police in the Bellarine, saying it was a much more important issue than CCTV funding.
"The reality is we don't have enough police coverage at night," he said.
"It doesn't matter how much CCTV you've got – they've got hoodies and they're on ice – they don't care."
After the meeting, Ms Henderson addressed concerns that Drysdale's push for CCTV coverage might be disadvantaged due to political allegiances.
Drysdale is in the neighbouring seat of Corio, held by Labor MP Richard Marles.
"This is an evidence-based fund, so it won't make any difference," she said.
Ms Henderson said the only advantage for her constituents would be her working hard to make sure they understand the criteria.
"As the MP for Corangamite I will be rattling the cage and banging the table to make sure the voice of the Ocean Grove community is heard," she said.