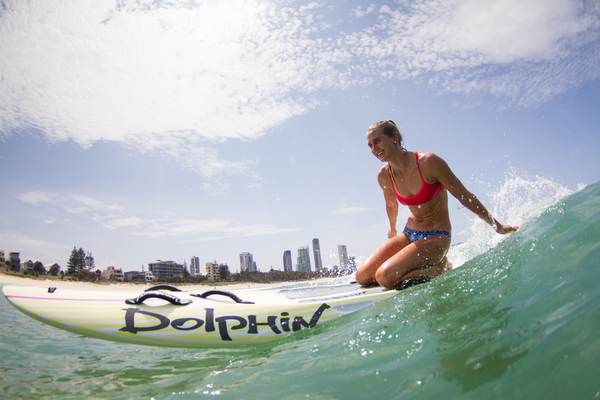 FIVE-time Pier to Pub winner Harriet Brown will attend a Life Saving Victoria session aimed at females staying in lifesaving at Ocean Grove SLSC this week.
The 25-year-old former competitor with Ocean Grove SLSC, who resides on the Gold Coast, will be a keynote speaker at the 14th session of the Female Leadership network on Thursday 3 March.
The session dubbed 'Active Living and Healthy Lifestyle' will run from 5pm to 9pm, supported by Greater City of Geelong and the LSV Female Leadership Network, invite females aged 16+ to attend the session.
Brown is an elite surf ironwoman, ocean swimmer, exercise physiologist, pilates instructor and speaker.
She was a top young pool swimmer who was drawn to the beach at Ocean Grove by her elder sister Alexandra. Brown began her career in the surf at Ocean Grove SLSC.
The former Geelong based local currently competes for Northcliffe Surf Life Saving Club on the Gold Coast.
Voice sports reporter Mark Heenan (MH) spoke with Harriet Brown (HB) ahead of her visit to Ocean Grove SLSC this week.
(MH) Thanks for Harriet for interview. What is the purpose of your visit to Ocean Grove SLSC this week?
(HB) "This week's visit is a female leadership network and to promote females within lifesaving and surf lifesaving in active and healthy living and leadership."
(MH) What are the main reasons why you are targeting 16+ aged females to attend?
(HB) "It is hard as females as you get older as a female to stay involved in sport. There are a lot of females dropping out of sport to pursue other things and there is that responsibility to be there as a role model for women in sport to promote active and healthy living. In surf lifesaving there is a dropout rate of females and males as well. To try and improve that and to continue the participation rate in females is a big thing in sport."
(MH) Your connection to Ocean Grove SLSC goes back a while with your nipper days at the club and a lot of the club members look up to you as a hero. What does it mean to come back to Ocean Grove SLSC?
(HB) "Ocean Grove Surf Life Saving Club has been a huge part of my life. I started nippers there when I was nine years of age and that it is kind of where I fell in love with the sport. I love coming back to Ocean Grove SLSC and I have a good reception with those young kids because I know what it is has been like with surf life saving and know how it is in Victoria for surf life saving. I know how hard it is to train when it is cold and the barriers we come up against. I really enjoy coming back home and seeing everyone at Ocean Grove SLSC."
(MH) You won your fifth Pier to Pub event in January this year and what significance does the annual Lorne based swim hold for you as defending champion?
(HB) "I love racing the Pier to Pub and I love the whole event. I have raced in it since I was 12 years old. Winning five times is so special to me and I love going down to that event because I have so many family and friends who do the race as well."