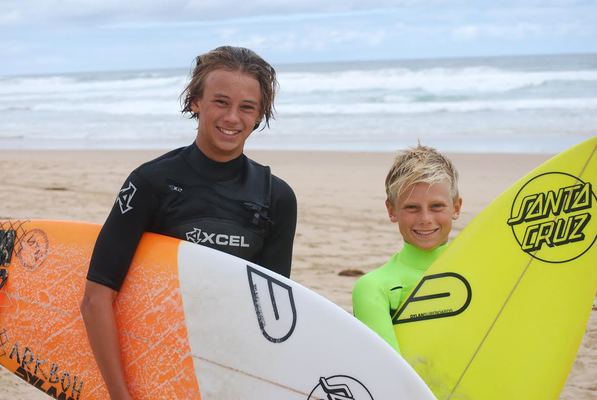 Compiled by Stephanie Asher
THE sky was the limit for young Ocean Grove local surfers in tough conditions at Phillip Island at the second Victorian Junior Series competition last month.
Ocean Grove teenager Emma Walker was the standout surfer after finishing third in the Under 18 girls' division across two days of competition on 20-21 February.
The wild and changing rips meant surfers were advised to cut their losses at certain points, to catch the wave in, run around on the sand to the rip point and go back out.
Many surf-savvy youngsters made the most of their fitness, took the on-shore run in their stride and made the most of the strong rip currents to get out and find a better ride to add to their point score.
Under 14 Ocean Grove competitors, Bohdie Williams and Charlie Mahoney both placed second in their heats during competition on Saturday, 20 February.
Older brothers Arkie Williams and Harry Mahoney from Ocean Grove showed great creativity and good form against strong competition.
Ocean Grove Surf Life Saving Club nipper Ellie Harrison finished fourth overall in the Under 14 girls' competition.
THE third and final round of the Victorian Junior Series will be held at Jan Juc on 16-17 April.