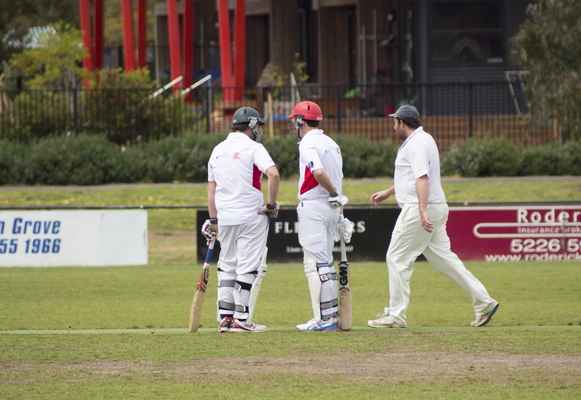 OCEAN Grove Cricket Club playing coach Paul Jubber's four-wicket haul proved a masterstroke in the Grubbers' 30-run two-day victory over neighbour Barwon Heads on Saturday 22 October.
The left-arm spinner finished with 4/59 from 19.1 overs on day two of the rain affected match at Ray Menzies Oval.
Chasing 269 for victory the Seagulls fell short by 31 runs and were bowled out for 238 in 72.1 overs.
The battle-of-the-bridge clash was the only BPCA A grade game which resumed on day two after the other three A grade fixtures were abandoned due to inclement weather and unsuitable conditions.
Jubber said it was a crucial win in the challenging conditions after the club's round one loss to Collendina on 8 October.
"Really pleased to win against Barwon Heads," Jubber said.
"It was a really tough day to bowl and field and I would also imagine batting wouldn't have been easy with several rain delays.
"We are just delighted to start the season positively and win against a good outfit (Barwon Heads).
"They are a good side who will be there and thereabouts come finals time.
"A bonus for us is also that we were the only game to play in the A Grade and have a result."
Not to be outdone, Grubber Corey Buxton claimed the vital wickets of Seagull captain Sam Schaller (0) and the experienced Craig Biddiscombe (24) in the absence of left-arm speedster Dan Roddis.
Buxton finished with 3/71 from 21 overs, while Jackson Kent, Thomas Kent and Linden Giuffrida all claimed one wicket apiece.
Seagull pair Lewis Hyland (47) and Lachlan Campbell (45) batted well, while Ryan Binder (26) and Jason Mallett (18) failed to capitalise on good starts.
Alan Daniel (34) who came in number eight, made a handy late order contribution with the bat.
At 6/215 the visitors were in the game but the Grubbers cleaned up the tail with four wickets.
On day one, half centuries to Grubbers Mick Kenneady (79) and Rhys Sheather (65) put Ocean Grove in a strong position.
Young Ocean Grove batsman Jackson Kent (45) shared in a 65-run partnership with Sheather, while Seagull Lachlan Campbell was the pick of the bowlers with 4/82 from 21 overs.
The Grubbers compiled 9/268 from 75 overs.
Ocean Grove now face reigning A Grade premiers Anglesea, who currently sit in ninth spot, in a two-day game which starts this Saturday at Anglesea.