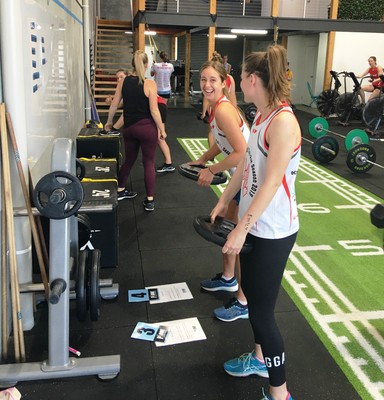 By Mark Heenan
Ocean Grove senior netballers have taken a different approach to commence preseason training.
Rather than toiling away in the hot sun at the Shell Road netball courts, the Grubbers were hard at work at SCY 247 Training gym in Ocean Grove in December as part of their preseason program.
"We have moved into to do some strength and cardio sessions with Bridget at SCY 247 in Sinclair Street in the industrial estate," new senior netball coach Nikki Cooke told the Voice.
"Bridget has been past sponsor and a long-time supporter of the club and she is the owner of the gym.
"So she was keen and happy to be involved in our preseason and the girls will work on their strength and cardio during that time."
THE 2019 season was one of the most successful years in Ocean Grove senior netball history.
All 12 Saturday teams including six senior sides with A, B, C, D and E Grades and the 19/Under team made Bellarine Football Netball League finals this year.
Cooke, who was appointed as Grubber senior netball coach in November, had been impressed with the senior turnout at preseason training and its fitness standards.
"We have had great numbers at our trainings," Cooke said.
"Anywhere between 25 and 36 are the numbers at training.
"The numbers for preseason have been fabulous.
"Overall, I am happy with the standard of where we are at so far."