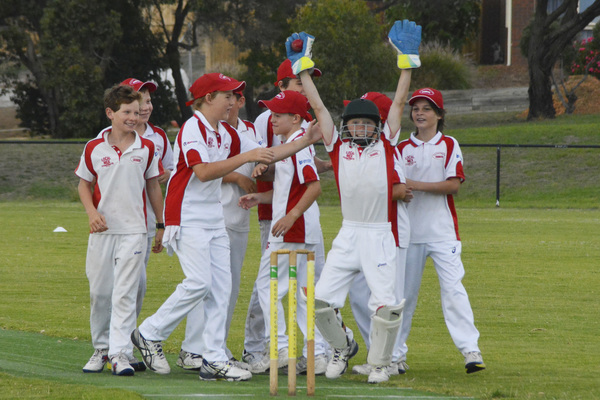 Compiled by Paul Madden
AS we come up to the end of the season leading into finals with one home-and-away round left, the juniors are well placed for finals appearances.
Both under-15 teams have continued with good wins and sees them consolidated top of the ladder and second respectively giving them both a home game semi-final. Similarly the under-13 Swans, after a big win, are now placed top of the ladder and a home final for them also.
Under 15 OG Red D'Arcy Division
OG Red won the toss and decided to bat first, scoring a respectable 9/206, with Charlie Walter and Flynn Hardiman both scoring 52 not out and supported by Taliesen Platt and Liam Mullen 28 and 24 respectively. Queenscliff were then sent in to have a hit but fell short scoring 126 with outstanding bowling by Nathan Scarpa taking 4/13 from his five overs and Brad Walder 2/9 from his three overs. A huge win for the boys which has cemented them in top spot and guaranteed them a home semi-final
Under 15 OG White McMahon Division
The OG White boys got up early to travel to Lara but it was worth it with the boys winning the toss and bowling first keeping Lara to a gettable 6/144 from 45 overs with Liam King 2/18 from six overs and Mitch Gawley Price 1/6 from five overs. Second week up early again to go and have a bat but the early morning rise had no effect on the boys as they piled on 4/232, with the reliable Louie Beale and Harry Tregenza 51 and 50 both retired, Will Owen getting 21 and Henry Walsh 16 retired. This was a must-win game and the boys consolidated their finals with second on the ladder
Under 13 OG Swans Norquay Division
OG Swans lost the toss and Drysdale decided to bat first scoring a respectable 5/125 from their 52 overs. The Ocean Grove boys then came out to bat and were switched right on from the start showing why they are top of the ladder making a huge 277. Nathan Down was unbeaten with 43 retired, supported by Hayden Ewart 31 retired and Shaun Biemens, Zane Branniff and Kody Harrison Roberts scored 17, 15 and 15 respectively. The best bowling was shared around with Zane five overs two maidens and 2/7, Shaun, four overs one maiden and 1/4 and Josh Kuipers three overs one maiden and 1/6. Well done to the boys on a huge win and good luck in the finals
Under 13 OG Grubbers Norquay Division
OG Grubbers won the toss and decided to have a bat first, scoring 8/156 from their 52 overs, with Cooper Ward continuing his fine season with 34 retired, two catches and two wickets for two runs from his five overs. Cooper was supported by Tahj Wirth with a solid 15 runs. Apart from Cooper the best of the bowlers was Alex Harper with 1/6 from his two overs. Unfortunately the boys just fell short of a win with Collendina scoring 6/196 from their 52 overs.
As we near the end of the season we ask supporters to come up to Memorial Reserve on Saturday 20 February kicking off with the talented under-17 combined Ocean Gove/Collendina team from 9am, which will be followed by our A Grade taking on Wallington from 1.30pm in our McGrath Foundation Pink Stumps Day.
The players will be wearing pink so off the field wear something pink as well, chip in a few dollars and enjoy the day supporting a worthy cause. The day is for the ladies with food and drinks and plenty of prizes and gifts to be won.
Thank you to our local sponsors who have come on board supporting the day with gifts and vouchers for the Pink Ladies.