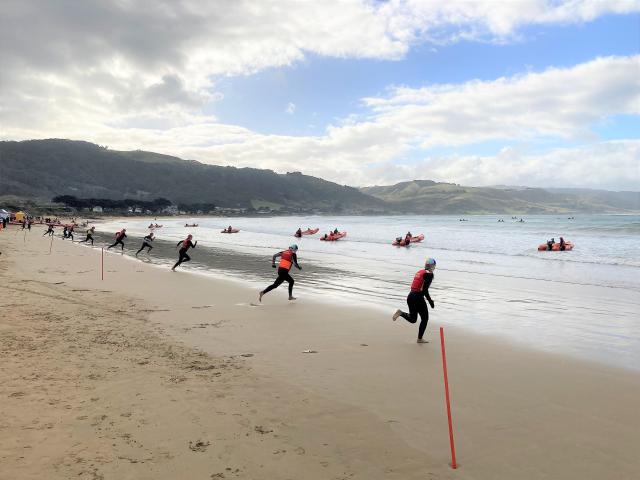 More than 250 inflatable rescue boat (IRB) athletes and officials from 16 lifesaving clubs descended on Apollo Bay for an action-packed weekend of racing for round five of Life Saving Victoria's (LSV's) TRE Motorsport IRB Premiership Series.
Showcasing the most popular and efficient modern rescue apparatus, the IRB, spectators were treated to a fast and furious display of rescue skills as clubs from Geelong and the Surf Coast joined 16 clubs from across Victoria in their final dress rehearsal before the Victorian IRB Championships, which will be held in Lorne later this month.
Ocean Grove SLSC was successful in placing third overall in the combined, open and under 23 divisions, thanks to their efforts winning the under 23 women's tube and teams rescue events, the open women's mass and teams rescue and the open mixed lifesaver relay.
Open men's rescue Under 23 men's tube rescue
1st Barwon Heads 13th Beach (Aaron Robson, Zachary Santullo, Bronte Sprenger)
2nd Ocean Grove (Oliver Sullivan, Drew Honey, Mackenzie Hooper)
6th Barwon Heads 13th Beach (Seamus Spanner, Bryce Newton, Kieran Spanner)
Open women's rescue
2nd Ocean Grove (Orlagh Davison, Emily Bambrook, Georgia Cashin)
4th Point Lonsdale (Jessica Robinson, Andrew Taylor, Stephanie Padgham)
7th Ocean Grove (Ella Willson, Olivia Ball, Benjamin Eales)
Under 23 women's tube rescue
1st Ocean Grove (Orlagh Davison, Gabrielle Hannan, Mackenzie Hooper)
3rd Point Lonsdale (Ruby Keon-Cohen, Caitlin Robinson, William Adcock)
Under 23 men's rescue
4th Bancoora/St Kilda composite (Cooper Welsh, Iluka Proietto Mobourne, Tegan Reither)
Open men's mass rescue
2nd Barwon Heads 13th Beach (Jake Pownall, Ryan Wilson, Zoe Campbell, Samantha Pownall)
Under 23 women's rescue
5th Point Lonsdale (Jodhi West, Brigitte West, William Adcock)
8th Point Lonsdale (Jessica Robinson, Stephanie Padgham, Will Gourlay)
Open women's mass rescue
1st Ocean Grove (Orlagh Davison, Emily Bambrook, Jacob Lee, Georgia Cashin)
7th Ocean Grove (Gabrielle Hannan, Keely Peatling, Drew Honey, Alice Moon)
Open men's teams rescue
2nd Barwon Heads 13th Beach (Jake Pownall, Thomas Lenehan, Ryan Wilson, Zoe Campbell, Stephanie Dimitrio, Kieran Spanner)
Under 23 women's mass rescue
2nd Ocean Grove (Orlagh Davison, Emily Brambrook, Jacob Lee, Georgia Cashin)
3rd Ocean Grove (Gabrielle Hannan, Alice Moon, Drew Honey, Giselle Waschi)
Open women's teams rescue
1st Ocean Grove (Orlagh Davison, Gabrielle Hannan, Emily Bambrook, Keely Peatling, Jacob Lee, Georgia Cashin)
4th: Point Lonsdale (Jodhi West, Brigitte West, Ruby Keon-Cohen, Caitlin Robinson, Andrew Taylor, Will Gourlay)
Under 23 men's teams rescue
2nd Ocean Grove (Drew Honey, Henry Gove, Oliver Sullivan, Fletcher Anderson, Alice Moon, Giselle Waschi)
5th: Point Lonsdale (Will Gourlay, Joshua Vaughan, Kye Gray, William Adcock, Jodhi West, Brigitte West)
Under 23 women's teams rescue
1st Ocean Grove (Orlagh Davison, Ella Willson, Emily Brambrook, Olivia Ball, Jacob Lee, Benjamin Eales)
7th Point Lonsdale (Jodhi West, Brigitte West, Jessica Robinson, Stephanie Padgham, Kye Gray, William Adcock)
Open mixed lifesaver relay
1st: Ocean Grove SLSC (Nicholas Giblin, Liam Krige, Gabrielle Hannan, Orlagh Davison, Emily Bambrook, Nalani Gough, Jack Kennedy, Drew Honey, Martin Sinnett, Oliver Sullivan, Georgia
Cashin, Giselle Waschi, Ella Willson, Olivia Ball, Henry Gove, Jacob Lee, Benjamin Eales)
8th: Bancoora/St Kilda composite (Care Edwards, Caitlin Reither, Ruby Leishman, Darcy O'Neill, Tegan Reither, Iluka Proietto Mobourne)
Overall results – open
3rd: Ocean Grove, 36 points
5th: Barwon Heads 13th Beach, 22 points
9th: Point Lonsdale, 10 points
Overall results – under 23
3rd: Ocean Grove, 43 points
5th: Point Lonsdale, 19 points
10th: Lorne SLSC, 4 points
11th: Bancoora, 3 points
13th: Barwon Heads 13th Beach, 3 points