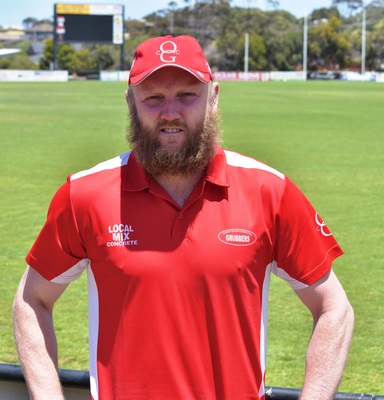 By Mark Heenan
The fresh new surrounds at Ocean Grove Cricket Club has reinvigorated the cricketing life of all-rounder Matt Caulfield.
Caulfield, 37, a legend with East Belmont Cricket Club in the Geelong Cricket Association, made the switch to the Bellarine competition this season following his move to Ocean Grove.
"I was wanting a change more than anything – I was kind of a little bit stale back at East Belmont playing in the lower grades with my old man," Caulfield told the Voice.
"I live down here, which is just around the corner (from the club) and it made sense to come down and have a train.
"The club is really welcoming and everyone makes an effort to make people feel welcomed – It was good to have that coming into the club.
"The facilities (here) are probably the best going around (on the Bellarine)."
Caulfield's numbers with bat and ball in A1 this season are impressive and a key reason why Ocean Grove sits as outright ladder leader.
Prior to the Christmas break, Caulfield scored 215 runs at 43 and chipped with nine wickets at 14.22 after bowling 51 overs in the first half of season.
Caulfield made a classy 95 where he blasted four sixes and shared in a match-winning 150-run sixth wicket stand with Grubber captain coach Paul Jubber.
He made 36 in the club's Round 2 one-day win against reigning A Grade premier Anglesea and also snared 4/30.
"Apparently that is why (Ocean Grove) recruited me for my bowling," laughs Caulfield, who played against Ocean Grove in a BPCA A Grade premiership victory for Newcomb 12 years ago.
He followed up with an unbeaten retired innings of 50 in Ocean Grove's two-day victory over Jan Juc on 1 December.
Grubber playing assistant coach Anton Scholtz, who fills in as captain coach while Paul Jubber is overseas, confirmed Caulfield had been forced to bat more after its A1 team had suffered top-order collapses.
He said it was a luxury to have Caulfield's talents batting at number 7 or 8 and bowling crucial overs.
"It is handy to have the experience with somebody like Caulfield around the group," Scholtz said.
"That was the provision of him sort of coming down, he is starting a new business and trying to integrate a bit more into the local community.
"Caulfield is luxury to have both with skilsets and the history that he brings and his background and playing pedigree and so forth – his name is well known in GCA cricket and everyone knows what he is capable of."
IN other developments, Paul Jubber is expected to resume playing next month and likely to be available for the club's Round 12 two-day clash against Collendina on February 2 after an overseas vacation.
MEANWHILE fast bowler Dan Roddis is expected to resume playing this month after an extended layoff following knee surgery.