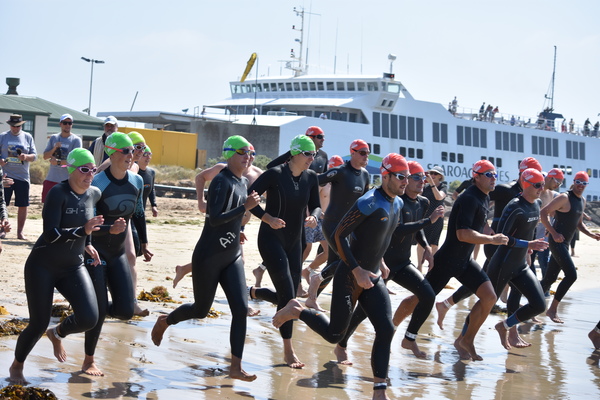 By Mark Heenan
Queenscliff180 Family Swim director Liam Petrie-Albutt has encouraged Ocean Grovers and Bellarine locals to take the plunge and participate at this month's event on Sunday 20 January.
Last summer's event marked the first inaugural Queenscliff180 Family Swim, which was formerly known as the Queenscliff Blue Water Challenge.
He said the emphasis of the 1km Queenscliff180 Family Swim was on families and participation.
"It is a family (idea) – all the other swims are quite die-hard swims where it is a big race and who crosses the line first," Petrie-Albutt said.
"This swim is definitely about participation and on the day you can see that, we have got a great website with some great visuals of what we had last year."
Petrie-Albutt said he was keen to develop a 'Bellarine Swim Series' in future years and work alongside the Ocean Grove SLSC Ocean Open Water Swim Festival, which takes place on Sunday 27 January.
He said nearby Bellarine-based ocean summer swims including the Wreck2Reef at Indented Head on 10 February and Point Lonsdale SLSC's Rip View Swim Classic around the New Year period had potential to be part of a Bellarine Swim Series calendar.
"Long term, I am really keen to join with the Wreck2Reef, the Ocean Grove Surf (Life Saving) Club and Point Lonsdale (SLSC) and potentially build a Bellarine Swim Series, which would be great," he said.
"And that is probably (about) bringing more people to the Bellarine Peninsula and encouraging tourism to the area."
The Queenscliff180 Family Swim, Ocean Grove SLSC Ocean Open Water Swim Festival and Point Lonsdale's SLSC Rip View Swim Classic are currently part of the Great Victorian Swim Series.
This summer's Queenscliff180 Family Swim is a fundraiser for the Queenscliff Coast Guard and Beyond Blue Australia and takes place at Queenscliff Pier on Sunday 20 January with entries on the day $66.
To register log onto queenscliff180swim.com.
Events include a 500m junior swim and 1km adult swim.
IN other Ocean Grove SLSC swim news, registrations are open for the third annual OGSLSC Ocean Open Water Swim Festival on Sunday 27 January.
There are three events including the 400m junior/novice Swim, 1.2km Classic Swim and 2.5km Enduro Swim.
Online prices start from $30 for Under 18 participants and $60 for adult entries.
For registrations log onto oceangroveslsc.asn.au.