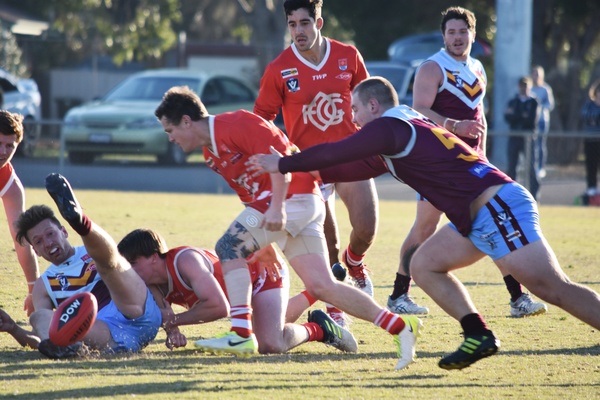 By Mark Heenan
An injury hit Ocean Grove snapped its mid-season form slump to score a resounding 79-point victory over Newcomb at Grinter Reserve on Sunday 10 June.
After suffering three losses in their past four games which included defeats against lower ranked teams Drysdale and Modewarre, the Grubbers dominated a goalless Power in the first half.
Final scores Ocean Grove 15.18 (108) to Newcomb 3.11 (29).
Ocean Grove captain James Linton reigned supreme across the midfield and gathered numerous disposals in a best on ground performance.
Linton, who booted three goals, said the win tested the Grubbers' depth.
Ocean Grove's injury woes deepened with gun defender Peter Hardy and prolific ball winner Luke Cartelli both sustaining hamstring injuries in the 13-goal win.
Youngster Isaac Wilkins and on-baller Jahd Anderson were ruled out before the game after they suffered concussion in the club's 42-point loss to Modewarre on 2 June.
Defender Kaiden Long was still sidelined with a calf injury while Kelly Williams (hamstring), Paddy Maloney (shoulder) Corey Walter (AC joint) and Nick Lynch (knee) did not play.
"It was a great performance by all 22 players," said Linton, a dual Ocean Grove best-and-fairest winner.
"Our injury list has become quite extensive now which hurts to have some of our most important players putting our structures out – but that's football.
"We saw the game as a must win and our confidence within the club and between the players was still strong leading into the game."
Under 19s player Joe McDonald made his Grubber senior debut, while 18-year-old Geelong Falcons representative Logan Taylor played his first senior match in 2018.
Ollie Monteith, an eligible Ocean Grove Under 19s player, notched up his seventh senior game in 2018.
"We had a debutante Joe McDonald who came in and two other juniors (Taylor and Monteith) in the side and they contributed well," Linton said.
"It is great to see them come up and adjust to senior football the way they have."
The Grubbers burst out the blocks against an inaccurate Power with a four-goal first term.
Ocean Grove extended the margin during the second quarter and led by 37 points at half time.
Newcomb finally registered its first major in the third quarter in front of their strong home crowd.
The Grubbers put the accelerator on after three-quarter time with six-goal final term blitz.
Classy forward Jake Carmody booted three goals, while his lieutenant Matt Caldow also finished with three majors.
Mitch Lindkvist helped the Grubbers get off to a flyer with two early first half goals and experienced forward Travis Gavin scored two goals.
For Newcomb, Zac Smith kicked two goals, while David Sanzaro kicked one goal and Meyrick Buchanan were in the best players.
In the reserves grade clash, Ocean Grove scored a 71-point win over Newcomb, 16.12 (108) to 5.7 (37).
Veteran Grubber Matt McCartney made a sparkling return and booted three goals in his first reserves game since Round 3.
Ocean Grove reserves playing coach Cheyne Kelly kicked three goals, while Ryan Baker, Sam Spencer and Ned Thorley each chimed in with two goals.
Senior regular Reid Baker-Hutchinson was named best player for the Grubbers.
The win left Ocean Grove with a 6-4 record after 10 rounds.
In the Under 19 Division 2 Bendigo Bank Cup game, Ocean Grove suffered a 30-point loss to Geelong West Giants 1 at West Oval.
Final scores Geelong West Giants 9.8 (62) to Ocean Grove 4.8 (32).
The Grubber Under 19s were without co-captain Joe McDonald who made his senior debut the next day.
The five-goal defeat left Ocean Grove with a 5-4 win loss record.
SENIOR SCOREBOARD
OCEAN GROVE 15.18 (108) def NEWCOMB 3.11 (29)
OCEAN GROVE
Goals: J. Carmody 3, M. Caldow 3, J. Linton 3, M. Lindkvist 2, T. Gavin 2, H. Walker, R. Maloney.
Best: J. Linton, R. Maloney, J. Carey, G. Campbell, A. Jarvis, J. Carmody.