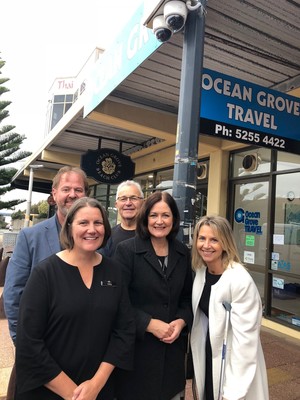 Bellarine Ward Councillor Stephanie Asher joined Member for Corangamite Sarah Henderson, local traders and members from the Ocean Grove Business Association to inspect new CCTV cameras in Ocean Grove and Barwon Heads.
Seventeen cameras have been installed in the main shopping strips of each area – 11 on The Terrace, Ocean Grove, and six on Hitchcock Avenue, Barwon Heads, thanks to the joint Federal Government and City project.
Footage from the new cameras, which are now in use in both areas, is recorded at the Ocean Grove Police Station and monitored by police, as required.
"It's really pleasing to partner with the Federal Government and police to help address local traders' concerns about the security of their businesses," City's portfolio holder for Community Health and Safety, Councillor Kylie Grzybek said.
"CCTV is a cost-effective measure which, when combined with other crime prevention strategies tailored to specific local requirements, can have a positive effect on reducing crime".
The City also recently installed a $60,000 smart lighting system in The Terrace, Ocean Grove to provide better street lighting and complement the new cameras. The lighting system also provides free wi-fi throughout The Terrace.
The Federal Government provided $120,000 for the project through its Safer Communities Fund and the City contributed $15,000, after local traders raised security concerns.