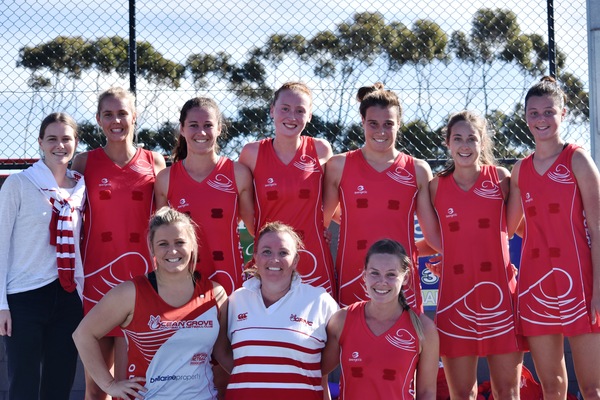 By Meg Badrock
Ocean Grove is the new ladder leader after six rounds of the Bellarine Football Netball League A Grade Dow Cup competition following its convincing 56 to 38 victory over Anglesea on Saturday.
The Grubbers replaced Barwon Heads at the top of the netball ladder standings after the Seagulls lost to Torquay 38 to 40 at Barwon Heads on Saturday.
Ocean Grove sits in first place ahead of second-placed Torquay with its superior percentage.
Ocean Grove senior netball coach Elyse Howard sees occupying top spot as a nice reward though banking wins was a higher priority to qualify for this year's finals.
"Gaining top position is where we want to be as it can set ourselves up for finals, however we need to play teams to gain a true reflection of our ladder position," Howard told the Voice.
Round 6 vs Anglesea
A Grade (56 defeated Anglesea 38)
The first quarter wasn't the best play we have seen from our A Grade side, however the girls were able to turn things around following quarter time.
Best: Kelsey Ollis, Rebecca Scott, Elyse Howard
B Grade (38 defeated Anglesea 19)
Another win for the girls however they still have plenty to work on if they want to be competitive against the top sides. Shelby Hackett proved unstoppable back in defence and Alyse O'Keefe worked hard to get the ball into the goal ring.
Best: Shelby Hackett, Alyse O'Keefe, Meg Badrock
C Grade (36 defeated Anglesea 20)
A strong start for the team set them up for the rest of the match. Jesse Sutton and Kate Titheridge were on fire in the goal ring and it was great to see long-time Grubber Lauren Ollis back out on court.
Best: Jesse Sutton, Kate Titheridge, Sharni Thebes
D Grade (50 defeated Anglesea 18)
A huge win for the girls after only being four goals up at the first break. Great to see D Grade holding strong at the top of the ladder following six rounds.
Best: Amy Collihole, Kylie Collett, Kim Caroll
E Grade (26 defeated Anglesea 13)
It was a tight start to the game, with both sides sitting on 5 goals at quarter time. However, our girls were able to lift, adding another win to their tally.
Best: Jenny Turner, Tracy Sacco, Jamilla Smith
U19s (28 defeated by Anglesea 39)
Despite being up at half time, unfortunately the girls were unable to hold onto their lead, going down to Anglesea by 9 goals.
Best: Milly Dodds, Elyssa Winter, Emma Simpson
Round 5 vs Torquay
A Grade (54 defeated Torquay 41)
The girls took control of the match early and went on to win comfortably over the previously undefeated Torquay side. Ocean Grove has now firmly established itself as major contenders this season, currently sitting second on the ladder and only 10% off top spot.
Best: Elyse Howard, Abbey Middleton, Kelsey Ollis
B Grade (35 defeated Torquay 32)
The girls got off to a great start but a close last quarter had everyone on the edge of their seats, with coach Elyse left literally standing on hers. Strong defensive pressure and a number of turnovers from Shelby Hackett allowed the team to hold on to the win, but only by three goals.
Best: Shelby Hackett, Meg Badrock, Emma Walker
C Grade (28 defeated Torquay 22)
Ocean Grove had the upper hand on Torquay at every term and was able to maintain that form throughout the entire match. Strong leadership through the centre by coach Kellie Morrish resulted in her being named best on court.
Best: Kellie Morrish, Isabelle Teague, Mia Smith
D Grade (19 defeated by Torquay 30)
Despite strong efforts from birthday girl Lauren Barber, unfortunately the fifth round saw Ocean Grove suffer its first loss of the season.
Best: Lauren Barber, Maddy Goodger, Nikita Walsh
E Grade (35 defeated Torquay 12)
The girls become the only Ocean Grove senior side to remain undefeated this season. It was a strong finish from the Grubbers, keeping their Torquay opposition to only one goal in the final term.
Best: Candice McKenzie, Alex Gadsden, Britt Gavin
U19s (22 defeated by Torquay 29)
Another hard fought loss for the girls, with goal shooters Paige Drinkwater and Coco Fraser being named within the best players for their contributions.
Best: Paige Drinkwater, Coco Fraser, Gemma Bell