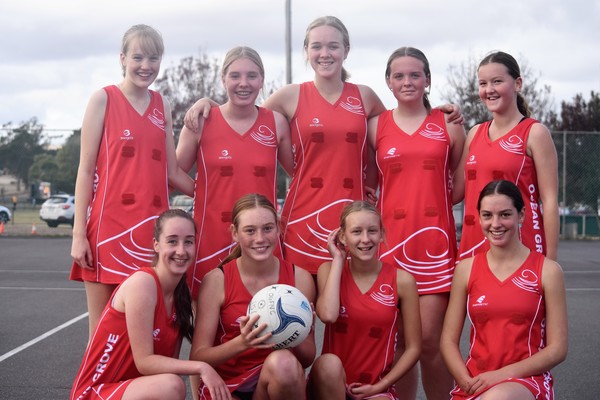 Another clean sheet for Grove, winning all of its senior and junior games against Anglesea.
OCEAN GROVE vs ANGLESEA
A Grade: Ocean Grove 60 def Anglesea 34
Grove jumped out of the blocks with an 18-goal first term. Grove increased its lead in every quarter. Rebecca Scott shot 53 goals at 89% accuracy. Grove is one of two unbeaten teams. Geelong Amateur is on top of the ladder by percentage. Best: Kate Slattery, Lucinda Vercher, Rebecca Scott.
B Grade: Ocean Grove 62 def Anglesea 11
A huge win meant Ocean Grove is now the only unbeaten team in B Grade. Best: Shelby Hackett, Isabelle Teague.
C Grade: Ocean Grove 35 def Anglesea 11
Grove was in complete all game, but really gave it percentage a boost with a 13 to one final term. It could be telling at the end of the season. Grove sits second on the ladder on percentage (182.80) from Drysdale (161.86) and Barwon Heads (145.71). Best: Melissa Briggs, Amy L Hill, Mia Smith.
D Grade: Ocean Grove 28 def Anglesea 15
The D Graders are in a similar situation to the C Grade side. The side is second on the ladder on percentage (186.27) from Geelong Amateur (182.35) and Torquay (140.00). Best: Madeline Goodger
E Grade: Ocean Grove 27 def Anglesea 16
E Grade rounded off a clean sweep once again for the seniors and sits unbeaten on top of the ladder. Best: Lucy Conquit, Taryn Laverty, Teegan Laffin.
Under 19: Ocean Grove 33 def Anglesea 11
Unbeaten and on top of the ladder the Under 19s are playing good netball. They kept Anglesea goalless in the first term. Best: Zoe Murrells, Mia Smith.
17U Sect 1: Ocean Grove 39 def Anglesea 6
The Grubbers restricted Anglesea to just two goals after half time and sit on top of the table. Best: Jordan Coad
17U Sect 2: bye
Three games and three wins for Grove as the team had a bye round.
15U Sect 1: Ocean Grove 46 def Anglesea 6
After an even first term, Grove powered away with a 17 goal to one second quarter. An eight goal to nil last quarter resulted in a percentage booster to sit on top of the ladder with a whopping percentage of 440. Best: Amelia Cunningham, Ruby Hildebrandt.
15U Sect 2: bye
A rest for the girls this week but they are looking good, second on the ladder with three wins and no losses.
13U Sect 1: Ocean Grove 29 def Anglesea 8
The Grubbers are fourth on the ladder but are well placed to finish higher with a good percentage. A six goal to nil first quarter set the tone for the game. Best: Tilly Peace-Teague, Emily Quinten.
13U Sect 2: Ocean Grove 29 def Anglesea 1
Grove restricted Anglesea to just one goal, in the third term, while putting on a clinic around the court. The girls are unbeaten with four wins. Best: Amelia Stanic.