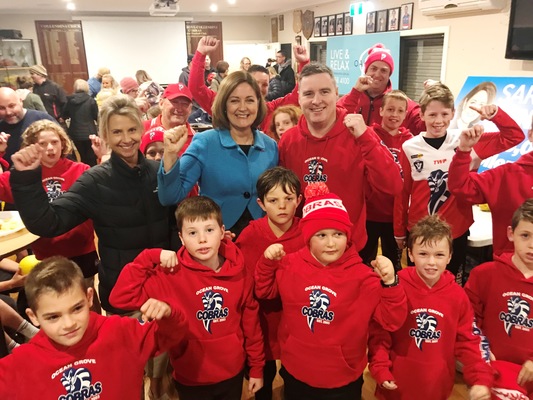 By Mark Heenan
Federal Corangamite MP Sarah Henderson has called on City of Greater Geelong to help reduce the busy traffic overflow at the Minerva Close entrance at Collendina Recreation Reserve.
Ms Henderson was at Ocean Grove Cobras Junior Football Club where she committed $580,000 towards upgrades for the Collendina Recreation Reserve clubrooms and facilities.
The funding promise includes expansion and modernising the change rooms and social rooms if a Morrison government is re-elected.
Ms Henderson acknowledged the entrance into the Cobras junior home base was a traffic hazard for cars and parking and patrons entering the facility on training nights and game days.
"I would really like to see council take leadership on those issues which are very much issues for the City of Greater Geelong," Ms Henderson told the Voice.
"There is no doubt that this club is absolutely booming and the population of Oecan Grove is growing at a rapid rate of knots.
"The situation with the entrance in need of council attention – I would like to see council take leadership on this and address some of these traffic congestion issues."
Ocean Grove Cobras Junior Football Club president Shaun Stow said the Cobras were now the second biggest junior football club in wider Geelong and their facility required urgent upgrades.
Mr Stow stated the Cobras were appreciative of a $580,000 investment from Ms Henderson if a federal government is re-elected at this month's election.
In 2019, the Cobras have fielded 16 junior teams, and by 2020 the junior club will introduce junior female teams for the first time.
"We are very excited by the growth of our club – we are the second biggest junior football club in the Geelong region," Mr Stow said.
"We deserve facilities allow our kids to grow and thrive.
"What a great announcement for the club and this has taken a lot of hard work from our committee.
"The federal funding announcement from Sarah was a fantastic result for our club."
Mr Stow said the current parking arrangement was not safe for kids and there was no effective traffic management plan, while it was an inconvenience to local residents.
He said there was a major opportunity for a new road access entrance off Bonnyvale Road to reduce traffic congestion.
He raised the possibility for council to sell land off into two to three residential blocks which back onto Minerva Close, the current entrance.
"The club has raised this solution on numerous occasions but the council have yet to act or take this option seriously," Mr Stow said.