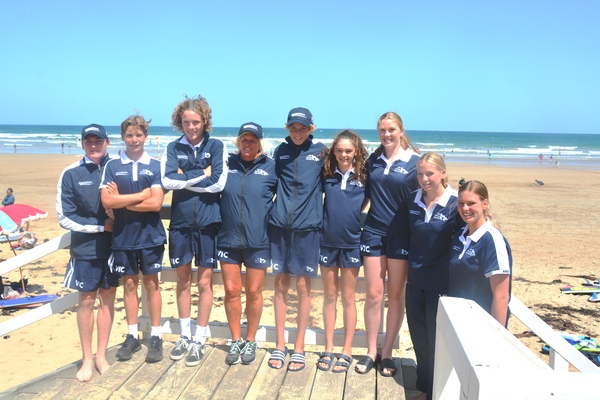 By Justin Flynn
Ocean Grove senior surf lifesavers have sacrificed their school holidays to train and compete in the Interstate Challenge in Queensland.
A number of Ocean Grove senior team members were selected to represent their respective state teams for event, at Alexander Headlands beach on the Sunshine Coast.
The annual competition is a points challenge that puts state against state in a number of water and beach events, in two competitions, one a youth, and the other a senior teams challenge.
Head coach of Ocean Grove Surf Life Saving club Sonia Kinsey is again the Victorian team manager, and said Ocean Grove was well represented, especially in the youth team, with seven of her youngsters being selected to represent Victoria.
"This is a very exciting time for the club at the moment, as I have a large number of dedicated young athletes who have spent a lot of their school holidays training to reach goals such as this one," she said.
"These kids have been training most days of the week, sometimes twice a day from mid-June and are to be congratulated on their efforts and dedication."
Four Ocean Grove athletes were also selected in the senior Victorian team, two recently competing for the state in pool lifesaving as well.
After the Alexandra Headlands event, the senior Ocean Gove competition team travelled to Sydney to compete in the annual Australia Day weekend surf carnivals, held on the iconic Manly beach and then on to Freshwater.
The two carnivals are a stepping stone to the Victorian and Australian titles that will be held in the coming months.
This team, comprising 30 athletes ranging from 13 to 19 years old, will compete in a number of events over the two days such as the Ironman and women racing, board and ski racing, swimming, beach sprints and team events.
"We have a number of very good athletes competing in a number of events and I know they are all looking forward to racing and achieving some good results," Kinsey said.
"It should be very exciting."