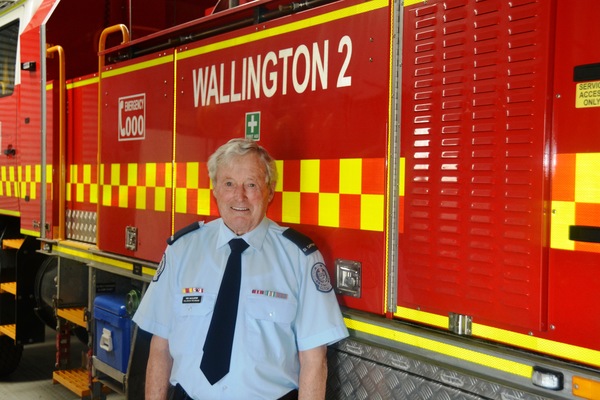 By Justin Flynn
By Justin Flynn
Ken McAllister's career as a volunteer firefighter extends 65 years and although it has slowed down somewhat, he is far from finished.
Mr McAllister was honoured on Australia Day by receiving an Officer (AO) in the General Division of the Order of Australia for his countless hours of volunteer work with Wallington Fire Brigade.
The 86-years-young Mr McAllister said he was "a bit surprised" at the honour.
"I know I've done a lot, but so have others too," he told the Voice.
"I consider myself lucky to be around.
"It's like anything, whatever you put in you seem to get more in return.
"To see what we have at Wallington now, I'm very proud. It's quite a strong brigade now."
Mr McAllister's family has farmed the land at Wallington for a century.
"Back in the early days it was in a farmer's interest to be a member of the local fire brigade," he said.
"It's amazing how we put them (fires) out with what we had."
Mr McAllister was Wallington Fire Brigade captain from 1965 to 1976 and from 1982 to 1986.
He was made a CFA life member in 1996 and a Bellarine Group of Brigades life member in 1992, and his complete list of accolades is lengthy and impressive.
Mr McAllister is still busy with the brigade in an organisational capacity.
He says the current fires in Victoria were not as bad as Ash Wednesday or Black Saturday, but the NSW fires have been particularly devastating because of their sheer size.
"I have to say I don't think we have had as many fires started by lightning in the one season," he said.
Mr McAllister keeps busy these days by playing bowls for Queenscliff, has been a Queenscliff Cruising Yacht Club member since 1978 and an MG Car Club Geelong member since 2002.
He said the satisfaction of seeing the station grow to what it is and the friendships he has made has made it all worth it.
"I hear them teach the current volunteers that your family comes first, your job comes second and then the fire brigade," he said.
"With me, if there was a fire, I was gone, it didn't matter where it was."
His wife Lorraine is also a Wallington brigade life member.
"He has live the fire brigade our entire married life and I have lived it with him," she said.