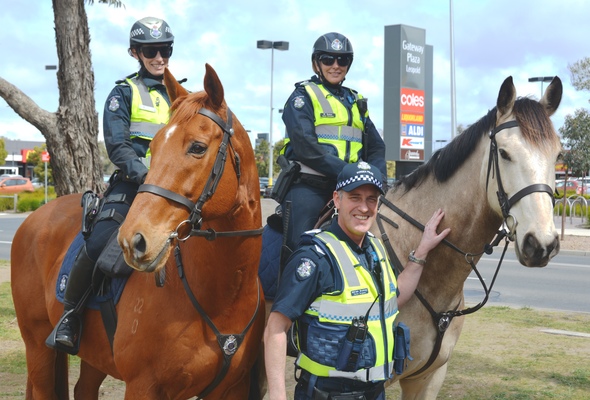 By Justin Flynn
Police are maintaining a visible presence near the Bellarine Rail Trail after two alleged sexual assaults in recent weeks.
Police are patrolling the area on quad bikes and police horses after a man is alleged to have assaulted a 21-year-old woman on 12 September.
The woman was walking west along the trail near Moss Rd when she was grabbed around the waist from behind by an unknown man. She managed to free herself before the man fled along Melaluka Rd.
The second incident occurred just before midnight on 18 September when an 18-year-old Leopold woman was riding her bike on the trail between Melaluka Rd and Kensington Rd when she was grabbed by an unknown man.
Police said the woman fought off the man, who was armed with a knife, before getting back on her bicycle and riding away, leaving her back pack behind.
The man has been described as Caucasian in appearance, aged in his 40s, with a pale complexion, short grey and brown hair and a medium to heavy build.
It is believed he was wearing a black hooded top and ripped tracksuit pants.
Bellarine Police Senior Sergeant Adrian Bickley said the area was being patrolled and that rail trail users' safety was paramount.
"We just want to reassure everyone that we're doing everything we can," he said.
"It's about reassuring the people of Leopold and anyone who uses the trail that we are being proactive in regards to everyone's safety."
Anyone with information is urged to contact Crime Stoppers on 1800 333 000.