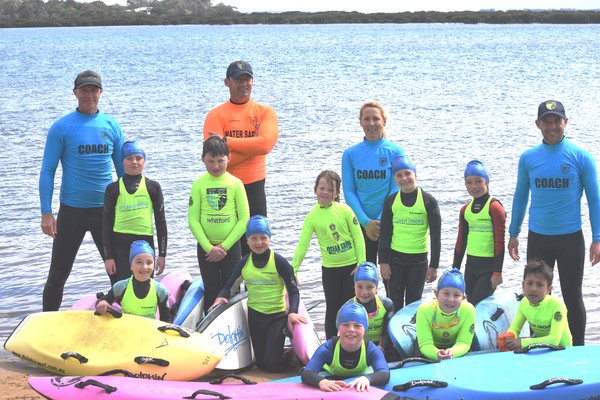 By Mark Heenan
The September cold air chill did not dampen spirits of Ocean Grove Surf Life Saving Club new Nippers after its river board session at Barwon River on Sunday.
Under 8s participants were among Nippers which took part in the club's final pre-season river board session located next to the Riverview Family Caravan Park southern entrance on 23 September.
Sunday's session along the river marked the start of Term 3 school holidays with upcoming Surf Sport training to be moved to Ocean Grove main surf beach in Term 4 on Fridays and Sundays from 12 October.
As part of OGSLSC's junior surf program there were four pool sessions at Bellarine Aquatic and Sports Centre in August and three river board sessions held in September.
Ocean Grove SLSC Nipper Assistant Coaching and Training Coordinator Peter Walsh said calm conditions on the river were ideal for the youngest participants to be introduced to Surf Sport.
"It all starts at Under 8s and building it from there and keeping them in the sport and that is what builds the club," Walsh told the Voice.
"When we look at Nippers there are so many skills involved.
"Our main focus is that our kids become water competent and enjoy being in the surf and build their skills along the way and competition is a nice successful buy product of that."
He said the enthusiasm among OGSLSC Nippers was infectious, despite the cooler temperatures on Sunday.
"I think it is our parent volunteers and water safety that feel the cold – the kids don't feel cold that just regulate and have fun," he said.
"I have got a daughter in Under 8s and she has been saying it has been the best fun ever."
IN other developments, the season's first Life Saving Victoria state carnival takes place at Altona Life Saving Club on Sunday 25 November.