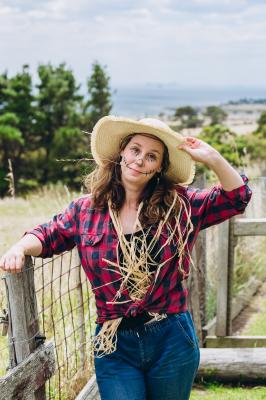 The second annual Great Australian Scarecrow Competition is once again seeking entries for the best scarecrow in the land.
The inaugural competition over the 2019/2020 summer period saw an incredible 55 scarecrows entered of all shapes, sizes and scare factors.
But this year the organising team at Flying Brick Cider Co are hoping to at least double the fun.
It's nearly time to harvest crispy, crunchy apples and succulent pears from around Victoria that go into making 100% natural Flying Brick ciders. Help is needed to scare off the birds – they like munching on yummy fresh fruit as well.
A top opportunity for people of all ages to showcase their creative flair – all scarecrows will be displayed for the world to see and admire – along the fence of Flying Brick Cider Co, Bellarine Highway, Wallington.
It literally is a case of grabbing your friends, school buddies, parents, work colleagues and letting your imagination take over.
Participants are not just creating their 'scary' conceptions for bragging rights only – there are some great prizes to be won if judged as the best by the official judging team.
The winner will receive $2000, runner-up $1000 and third $500.
There are also two Flying Brick Cider House $100 vouchers to be won.
Each scarecrow will be provided with a base 'spot' along the fence (2M wide x 1.5M).
Participants in the Great Australian Scarecrow Competition can 'deliver' and 'install' their scarecrow from now and right up Friday March 5 after registering via flyingbrickciderco.com.au and organising a delivery time with event coordinator Emily Lyons. Winners will be announced on Saturday March 13.
For more information head to flyingbrickciderco.com.au or check out the dedicated Facebook page The Great Australian Scarecrow Competition.