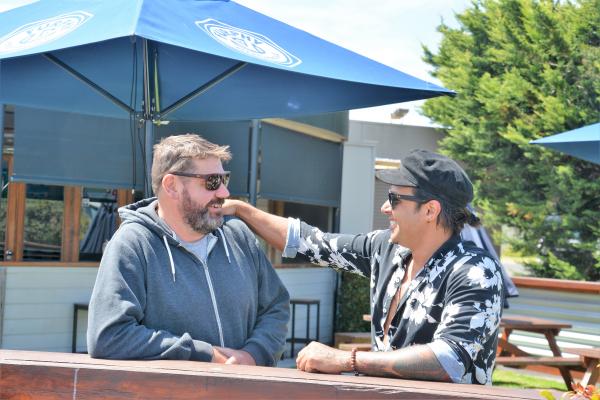 Generation Xers would remember the Ocean Grove Hotel as the epicentre of live music in the 80s. Big-name bands actively sought out the venue and asked to play there. Nowadays the hotel is making a comeback of sorts in the live-music scene. Justin Flynn sat down with the hotel's Andy McDonough and Ocean Grove local, lead singer of Taxiride and Umbrella Entertainment Group's Jason Singh to chat about it.
You've had a full summer line-up of gigs and some more to come. What's the response been like?
AM: The response has been great, people have been having a ball up and about dancing. Tickets sales for the shows coming up have been really positive.
JS: With Mystify we had a full house out here, 300 people.
The response from the town has been amazing. It's such a famous pub for touring bands. INXS, Midnight Oil, Tina Turner, AC/DC have played here. Taxiride did a show here back in the '90s.
Dina was THE place to go on the touring circuit. They'd go Melbourne, Geelong, here, Warrnambool, Adelaide and keep going.
With COVID-19 ruining 2020, have you found that people have embraced the live-music scene here more so?
AM: I think there are a lot of locals who look for the shows and enjoy coming out here. I see a lot of familiar heads around. You notice it from the people who travel from Melbourne who have probably done it a lot harder than we have. They're just so happy to be out. People were so happy to be able to come back to pubs.
JS: The town gets really full in summertime, as we know, and it seems like this place (the hotel) is our home-ground advantage like a footy club.
From an artist's point of view there's no barrier between the stage and the audience here. Being a local playing here, you look out into the crowd and there's my basketball team, my footy mates, school mums.
Speaking of COVID, how many hoops did you have to jump through to get going again?
AM: We're in a lucky situation where we have such a large outdoor area that we can utilise and fit within the rules. We've been lucky with the space we've got to use.
You've got two shows to go – the FINN Brothers (January 20) and then yourself Jason with Dale Ryder from Boom Crash Opera (January 25). How are you feeling about your gig?
JS: The response has been amazing and we finish off with our show – myself and Dale Ryder from Boom Crash Opera. Little bit nervous and super excited. I haven't done a full-band show in over a year now. Super excited to be playing in my home town.
So excited to show everyone what I've been doing the last 25 years. It's really nice just to be a normal guy in this town. However I've had this amazing career that I want to show and expose and remind people how big Taxiride was and how big the songs are and having one of my best friends in Dale next to me. We're going to bring the house down, I can't wait.
AS: Tickets sales are high for that one at the moment.
We hope the summer keeps going and do some weekend shows. Going forward we are looking to find ways to use our outdoor space in the winter.
What's the Umbrella Entertainment Group?
JS: Over the last little while I've been involved in creating some amazing concept shows for some very talented friends. A year ago I started my new company, Umbrella Entertainment Group, to house not only all of my musical ventures but to also create, produce and book many other shows. I let it sit through Covid, until now. Together with the help of my legendary manager Claire Reynolds, we're proud to unleash these shows onto the world.
See oceangrovehotel.com.au for a schedule of gigs over the rest of the summer.