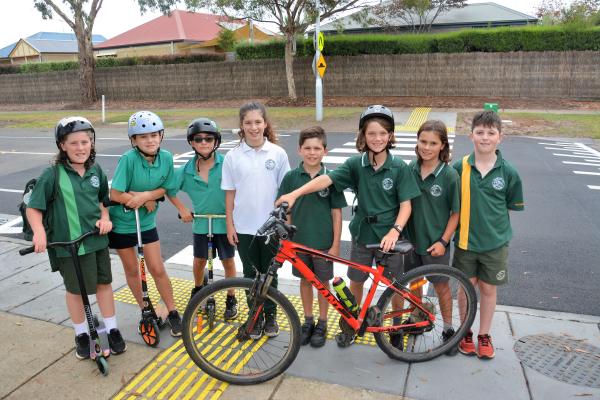 By Justin Flynn
Concerned parents finally got their wish when a pedestrian crossing was installed on Kingston Downs Drive in Ocean Grove.
Kingston Estate communications manager Allason Lynch began campaigning for the crossing 12 years ago.
As the only road into and out of Kingston Estate, Kingston Downs Drive is also used by pupils riding and walking to and from two primary schools.
"Twelve years ago I sent my first letter to council and then we had a petition with over 600 signatures, and then council said there was a need and then they said there was no need and … it didn't happen," Ms Lynch said.
"Two years ago Hayley Bennett came to me and said 'why don't we have a crossing there' and I said 'I tried', so we had that other little push and wrote some more letters to Council and we got our crossing."
Kingston Estate's office is directly opposite the new crossing and Ms Lynch said the amount of "near misses" involving vehicles and children over the years had been concerning.
However, drivers are still getting used to the new crossing.
The Voice observed a primary school-aged child waiting to cross while several drivers continued through the crossing.
Parents have given the new crossing the thumbs up.
"We use it pretty much every day and it has made our transit so much less stressful and safer," Jane Laidler said.
Council is expected to start construction of a refuge island on Milborne Place within the next few weeks.