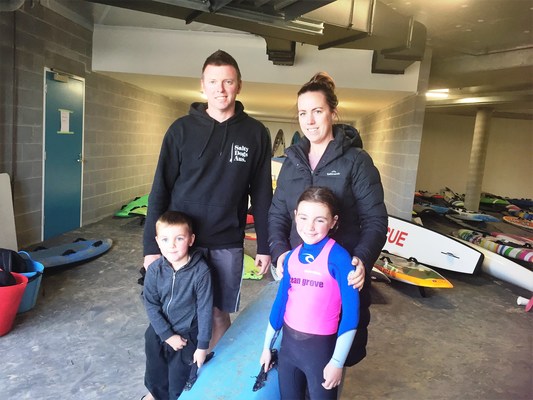 Hannah Churchill, aged 8, moved to Ocean Grove with her Dad Leigh, Mum Jackie and young brother from Traralgon at the start of the year.
She became interested in joining the Nipper Program watching Nippers training at the beach over summer and talking with new friends at Surfside Primary School. Hannah took up the challenge to learn to swim 25 metres over the winter to be ready to start Nippers at the start of October.
With school friends in the Under 9s, she is starting to learn about surf awareness and beach safety.
She will learn board paddling, beach sprints and all aspects of beach safety.
Hannah said she most enjoys the free swimming and running at this stage.
Parents Leigh and Jackie are keen to support Hannah to make new friends and be active and enjoy the beach safely.
They enjoyed the introductory Nipper parent night at the club and meeting other parents at training on Friday nights and Sunday mornings.
The whole family is looking forward to the social occasions at the club over the summer in the wonderful new club rooms.
Prospective members are welcome to contact the office or visit the Ocean Grove SLSC website oceangroveslsc.asn.au/ or email admin@oceangroveslsc.asn.au for more information.
OGSLSC welcomes Woolworths as new sponsor
Ocean Grove Surf Life Saving Club Administrator Anna McDonald recently welcomed new Woolworths Kingston Village's Store Manager Lynda Missen to the club.
Woolworths provided generous financial support for the club as part of their community partnership program and will be recognised as a silver Sponsor.
New Sponsors are always welcome.
Their support includes gift cards for winners of the open men's and open women's races in the club's 40th RT Edgar, AWA Alliance Bank Rip to River Classic major fundraising event.
Registrations are now open for the iconic Rip to River Classic event held on Saturday 28 December, via the club website's events page.