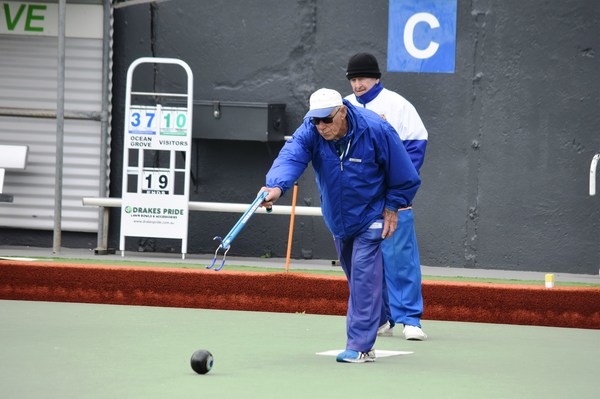 One would need to go back through the record books to determine if Ocean Grove's Division Eight teams 117-shot win was the biggest in club history or even in the Geelong Bowls Region.
If you were reading the overall scores you would question whether a mistake had been made or even a misprint but the 12-player team dominated proceedings on their own green.
Ian Walker, Marene Turnley, Pat Culton and Graeme Constable returned to the scales with a 44-15 margin while Kevin Richards, Lindsay Williams, Martin VanDoren and Reg Hungerford fell only two short of the half century winning 48-9.
Ruth Barker, Ray Foley, Heather Quilty and skipper Albert Touwslager raised the bat when they hit the 50 mark before finally recording the biggest win of the day in a massive 53-4.
Saturday Pennant teams enjoyed a good day out in regards to success on the greens however probably not so good in reference to the weather.
Premier Division One altered its match from Saturday afternoon to travel into Highton on Friday Night. Luckily the weather held on in what was not ideal playing conditions. Cheyne Verrier, Owen Clark, Grant McLaren and Mick West shone brightly recording the match winning 26-shot win finally returning their card 36-10.
Matt Flapper (plus 13) was the second rink to get the points on the night while Will Collihole's rink settled for a 20-20 tie. With two ends to play in the overall match it was a case of 'lights out at Waverley' instead this time it was Highton Bowls Club.
Brad Pavey was left to return to the green after the power came back on and had to settle for Highton's Jeremy Fitzgerald to play a bomb to steal the match points by one. The 15 points was a great return from their previous loss to Eastern Park.
Drizzle and single figure temperatures greeted the teams on Saturday as they took to the greens for round 6.
Ocean Grove's Premier Division Two entered its match against Torquay with a little bit of confidence despite not yet to register a win.
Not much separated the two teams throughout the day with only a handful of shots in the game. The home side got out to approximately 15 in front at the 80-end mark before a resurgence from Torquay got the margin back to two with a handful of ends to play.
Marg Carroll, Steve Parry, Faye Richardson in game 300 and Brian Smith carded a four on their last end which was enough for Garry Bowyers team to defend in the final two ends.
Smith eight-shot winners while Gary Burkett carded a 24-15 win for the Premier Div newcomers to take their first lot of match points.
Chris Harling, Carol Howarth, Paul Barker and Trevor Turnley showed their class at home providing the backbone to the overall 29-shot win against Geelong RSL.
With 40-10 in favour of Turnley enough to cover the Andrew Wright team on this occasion while two further rink wins to Geoff Fry and John Izzard had the home side walking away with 16 points.
David Stonehouse led his side of Dave Mackay, Barry Hair, and Patricia Virtue to a convincing 33-15 win in Division Three.
Jo Whitehead came in for the week and did not disappoint winning the rink 25-14. Noel Sherwell added the third rink win by seven in the side's 32-shot win at Highton.
Sandra Murphy, Tom Henderson and Peter Kuschert had firm grips on the overall match points when they met with Clifton Springs at home. Two rinks on each of the grass greens certainly did not distract the teams as they run out overall winners by 21 shots.
A late reversal in the draw for Division Ten luckily failed to rattle the Ocean Grove side as they made their way out to Lara. With an extra passenger in the car on this occasion the side skipped by Trish O'Brien and Alex Cook controlled the day also returning an overall win by 21.
John Forde was a late call up helping out Lara to fill their side on the day.
The only blemish on the overall scorecard for the day came as no surprise as it's never an easy task heading into Geelong RSL especially with added weather challenges. The RSL side proved too strong on the day against Ocean Grove's Division Six side.
Midweek Pennant
Midweek Pennant returned to the greens for round seven after wet weather played havoc last week.
Only one Ocean Grove side managed to complete its match.
Division Three got the most out of their day as they put a convincing win on the board. Doug Gorwell, John McConville, Sue Gorwell and Sandra Murphy were the biggest winner on the day 32-14 while Joyce Fraser controlled her team beautifully to finish 26-15.
GBR Fours
Three Ocean Grove teams will battle it out for glory in the GBR Men's and Ladies Fours.
A date for the finals is yet to be conformed but Lorraine Oliver, Lorraine Hunt, Pauline Almond and Marlene Sutton will contest the final against Torquay's Karen Harrington.
The men's event will be won by Ocean Grove but which team is yet to be confirmed. Dave Connell, Garry Bowyer, Alan Callow and Brian Smith will take on Craig Rippon, Cal Hanna, Mick West and Matt Flapper.
BPL Action
This week in Brisbane the Bowls Premier League will kick off with eight teams competing.
Ocean Grove's Matt Flapper will return to the Melbourne Roys alongside Commonwealth Games gold medallists Aaron Wilson and Carla Krizanic.
In conjunction to the BPL the second instalment of the BPL Cup will be played and Ocean Grove will also feature in this event. Craig Rippon, Brad Pavey, Mick West and Flapper will compete against 15 other teams from across Australia all trying to claim honours as a National Champion.