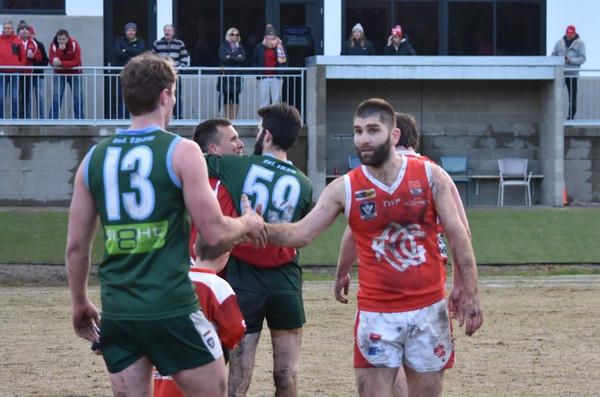 By Mark Heenan
Ocean Grove's Round 13 BFL clash against Geelong Amateur may have produced the cliff-hanger finish on Saturday it did take on extra significance for the King family.
David King in his first game as interim senior Grubber coach faced off against younger brother Brad King, a first-year senior captain of Geelong Amateur.
Both King brothers embraced after the final siren where the two-point result went the way of Ammos.
David, who turns 38 next month, said nothing was spoken about the clash with his sibling Brad, 31, prior to match.
"We (didn't) talk like that – Brad is my little 'bro' (brother) I have just got a lot of respect for him, you got to have respect for Ocean Grove and he has respect for Ammos," he said.
"So we left it alone and talked about other stuff."
Father of David and Brad, Jeff King, admitted his loyalties were 'torn' before the match.
"It is really exciting and it is little bit torn between both side and hopefully they both do well," Jeff told the Voice.
Jeff said he got a result he desired for, a close finish between Ammos and the Grubbers.
"Ammos are top of the competition and the team to beat and Ocean Grove haven't had a great season," he said.
"If we have a result and they are fairly close together that would be ideal," said Jeff, an Ocean Grove resident.
King family members turned out to watch the Queens Park BFL clash and tried to stay warm in the winter chill.
Fellow King siblings Jackie and Michael, a former Ocean Grove player, and also David's wife Emily and their children watched on.
Local football dominates Jeff's weekends across the winter with eldest daughter Jackie playing senior women's footy at Ocean Grove, while he often watches his grandkids play junior football across the Geelong region.
He was glad to see David in his role as senior interim coach and Brad captain and play at the same location.
"It saves me a lot of travel," Jeff laughed.
"Quite often we try and see half Ammos and half Ocean Grove depending on where they are.
"Weekends I can watch up to six or seven games of footy – it keeps me out of mischief."
David's brother-in-law is the runner for the Ocean Grove senior team, Kane Montgomery, a multiple premiership player at the Grubbers and husband of Jackie.
"Yeah he is just helping out, he is good value, it is good to have some people around you that you know well and you can sort of lean on at times," David said.