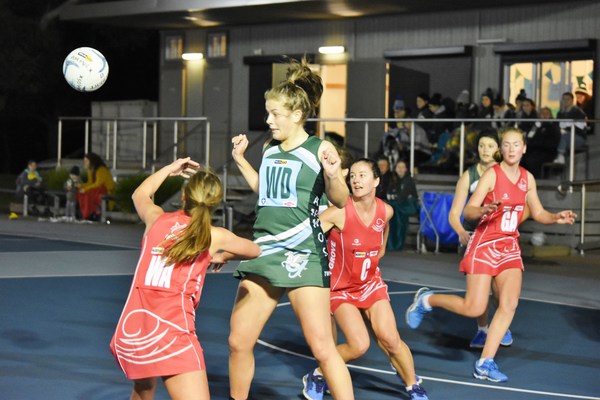 By Mark Heenan
Ocean Grove A Grade netball capped off an amazing return from the mid-season break beating all conquering Geelong Amateur in a Thursday night blockbuster on 11 July.
The top-three clash held under lights at Queens Park was played two days earlier to accommodate Geelong Amateur Ladies' Day on 13 July.
The Ammos and Grubbers clash was a thriller which went down to the wire.
The Grubbers came from behind at half time to defeat the Bellarine Football Netball League powerhouse and home team Geelong Amateur 41 to 40.
Ocean Grove trailed by eight goals at the quarter time break and reduced the deficit back to four goals at half time.
Ocean Grove senior netball coach Elyse Howard described the win against Ammos as its best of 2019.
In Round 4, the Grubbers defeated reigning BFNL A Grade premiers Modewarre by seven goals.
"Best win of the season due to coming back from such a deficit," she said.
She conceded the win at Queens Park had its best available A Grade line-up for this season.
"This is the only game for this entire year where we have a full team," Howard told Voice.
"There is a lot experience amongst all of us."
Howard was amazed with the second half turnaround and how Melbourne-based star mid-court Lillian O'Sullivan made a late arrival.
"We started off a bit slow, Lil (O'Sullivan) did not get here on time, so I guess we the preparation for the week wasn't the team we put out on the court," Howard said.
"I think that frazzled us a bit at the start.
"I think it took us a bit to warm up and being eight goals down and throughout the year we have always started quite well and then have lost games as oppose to being the people who are behind and have come through for that win.
"So that is the biggest thing for us to come from eight (goals) down and to come flying home and working really hard, physical and tough and it is fantastic and great for the club."
The second half addition of a fresh Grubber Lucy Vercher to defence was a critical move.
Vercher a star defender had not played since Round 9, was a key post at goal keeper.
"Lucy comes on with mongrel, and she has no fear, if anyone gets a goal it is like someone has punched her in the face and she hates it and that is what we love about her that fierceness and competitiveness," Howard said.
Star Grubber goal shooter Rebecca Scott shot 30 from 38 attempts, while goal attack Julia Allan chimed in with 11 goals from 20 attempts.
Ocean Grove will now meet Modewarre in Round 14 at home this Saturday and they face a further test against top three team Torquay at Torquay in Round 15.
IN the earlier Thursday night senior netball games at Queens Park, Geelong Amateur defeated Ocean Grove in B Grade 45 to 40, while the Grubbers won E Grade against the Ammos 28 to 18.