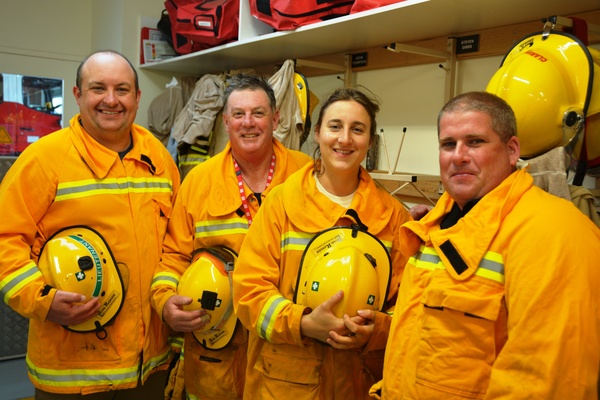 By Justin Flynn
Most people believe that flames and smoke are the most lethal aspects that confront a firefighter, but there is another danger that can also kill.
Burnt out trees are a massive threat and the biggest danger that kill more firefighters than smoke, flames and radiant heat.
OGCFA 1st lieutenant Adam Wakling said smouldering trees were a constant threat.
"It's not just the fire, it's the aftermath when the trees are dropping all around you," he said.
"There's no warning, they just drop. Trees are our biggest issue without a doubt."
Adam is a corrections officer at Barwon Prison.
"I like to help and serve the community, I think most people do," he said.
"I like the skills that we learn, being in the group. It's a good group of people. It's like a sporting club in a lot of respects.
"Being able to help someone when they can't help themselves is very rewarding.
"You pick up some great skills and leadership roles over the years translate into work and that type of thing."
Ocean Grove CFA is a staffed station, but also has around 40 volunteers, who dedicate themselves to protecting the town and its surrounds from fire.
Noel Grant is club secretary and is now retired, but still serves as a volunteer and has done for 14 years.
He moved to Ocean Grove from Echuca 17 years ago.
"I do it to serve the community," he said.
"My parents always served the community. I think there are 12 life memberships between them so it's in the blood.
"It's a privilege to be a volunteer. I love it."
Noel said firefighting is a challenge and can sometimes be downright frightening.
"We go into situations where we are in danger sometimes," he said.
"It can be scary. Your training comes in."
Rhiannon Smolski is 28 and moved to Ocean Grove recently and is training to be a volunteer firefighter.
She works as a conservationist and studied environmental science at university. She will be one of three female volunteer firefighters at Ocean Grove.
"I've always volunteered in different areas and different places wherever I have lived," she said.
"I learnt a lot about fire at university and I just wanted to learn a lot more.
"The education and the training and being able to learn hands-on combined with my history of always volunteering, and being an important part of being a community member made me select the perfect place to join.
"It's been amazing. Everyone here has been very supportive and wants to do as much as they can to help me learn. It's really enjoyable."
Peter Baxter is a constructions supervisor and has been a CFA volunteer for 15 years.
"I always wanted to be a volunteer and moved down here 16 years ago and there was a big sign on the door saying 'volunteers welcome' and that was their fault – I never left," he said.