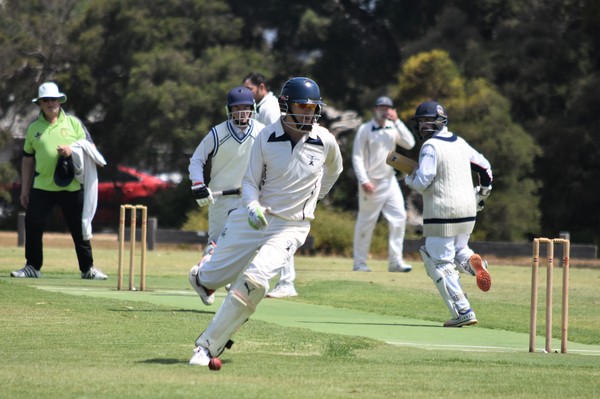 By Mark Heenan
Collendina A1 remains winless after nine rounds after Barwon Heads scored a six-wicket victory at RT Fuller Oval on Saturday.
The Seagulls won with more than four overs to spare after they finished at 4/135 from 35.1 overs in response to Collendina's total of 7/132 from 40 overs.
Experienced Cobra batsman Ben Ricardo who opened top scored with 46, said the Cobras fell 20 to 30 runs short of posting a competitive total.
"We felt like we were 20 or 30 runs short, but in saying that we dropped two catches at crucial stages," Ricardo said.
Veteran Richie Peters (26 not out) shared in a 32-run seventh-wicket stand with youngster Jack Doyle (10), who kept wicket for Collendina in only his third A1 match.
"He (Doyle) came in and showed a lot of composure and we were in a bit of trouble and lost two or three quick wickets and him and Richie put on a good little partnership together," he said.
"He got (10) with the bat, there is always an upside to everything and Jack Doyle is only 15," Collendina Cricket Club coach Eddie Elwood said.
Cobra A1 captain Nathan Walter played his first match since he injured his knee in Round 1 on 5 October, was dealt a cruel blow and run out for a duck by star Seagull fielder Lewy Hyland.
Damian McMahon bowled economically and took 3/17 from eight overs for the home side.
In reply, Barwon Heads' openers Lewy Hyland (24), Sam Schaller (17) both got starts before Cobra Jye Hearps, who took 2/21 from eight overs, removed the pair.
Youngster Charlie Hurst top scored with 33.
Cobra Charlie Lamb (0/27) played his first A1 game of 2019/20 and bowled seven overs.
Lachy Campbell (29 not out) and Teia Miles (23 not out) both guided Barwon Heads to victory.
"Young Charlie Hurst was great again and Teia coming into ice the game was good to (along with Lachy Campbell)," Barwon Heads captain Sam Schaller said.C1
COLLENDINA defeated St leonards by 20 runs in C1 Grade at Collendina.
Collendina made 184 and St Leonards 8/164 with Dean Britt taking 4/29 from eight overs.
ARMSTRONG Creek defeated Collendina by eight wickets in C2 Grade.
The Cobras made 8/75 from 39 overs, while Armstrong Creek finished at 2/79 from 11 overs in reply.