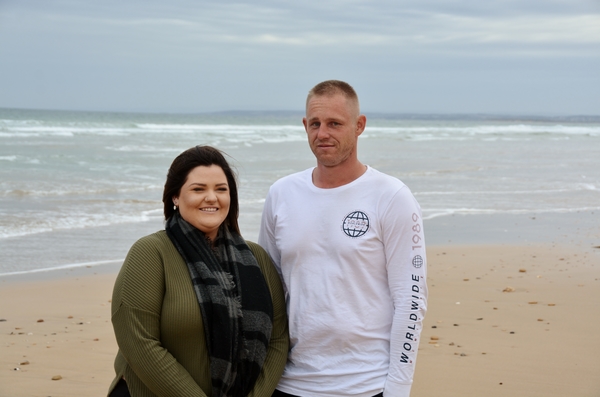 By Justin Flynn
A young Corio woman hopes that she can personally thank two men who saved her from drowning at 13th Beach on Sunday March 3.
Rebecca Graham, 23, was swimming near Barwon Heads 13th Beach Life saving Club with her partner Cam Smith when they became caught in a rip.
While Cam was composed, Rebecca started to panic and was rapidly losing strength until two anonymous men swam to her rescue.
"Cam was trying to hold me afloat and I had swallowed a lot of water so I struggled and panicked a lot," Rebecca said.
"There was a big family there and two guys came out to us. We were out there for half an hour. None of us could touch the bottom and they just stayed with me until a board arrived."
Rebecca recalled one of her rescuers' names was Cyril and wants to thank them personally.
"I remember saying 'thank you' so many times, but I don't want them to think I'm not grateful," she said.
"I honestly thought I was going to die.
"I felt guilty bringing the other people into it because they didn't know me, they didn't know Cam and they risked their lives to help me.
"Without them and without Cam at the start I wouldn't have made it. I want to thank them in my way."
Rebecca said the family continued to help after she was finally ashore.
"When I was ashore they were still checking up on me and I remember they were trying to get me to control my breathing," she said.
"It wasn't like 'well you're out of the water now, see you later'. They genuinely cared.
"One of the guys' partners even carried me out of the water."
The experience has put Rebecca off going back into the water any time soon and had nightmares about the experience.
"I remember trying to go to sleep that night and I felt like a bit of a ghost – I was in shock still," she said.
Rebecca believes that the family might have been locals or had just moved to the area.
Anyone with information can contact the Voice at newsdesk@voicegroup.com.au and we will be in contact with Rebecca.