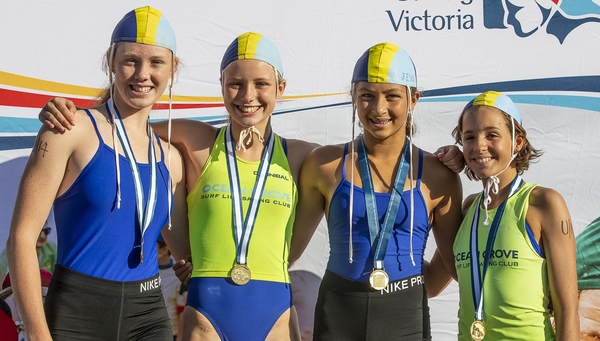 Ocean Grove SLSC senior competitors produced outstanding team and individual results at Life Saving Victoria Youth and Senior State Championships held at Warrnambool across the weekend.
The season's state finale took place on 9 March and 10 March in Victoria's south west.
On day one, more than 790 youth and senior lifesavers competed which included strong numbers from Ocean Grove SLSC.
Ocean Grove SLSC was crowned senior state champions from last year's Victorian Lifesaving Championships in Apollo Bay.
"We had ideal racing conditions – nice sunny weather, but also decent-sized waves on (day one)," said Life Saving Victoria aquatic sports manager Kirsty Clark.
"Ocean Grove SLSC (was the) team to beat from last year, but we have seen fierce competition across the season and the predicted conditions will make it anyone's game."
Zoe Honey, Lilly Hallam, Jess Paranavitana, Alice Moon from Ocean Grove SLSC took home gold in the Under 14 Girls Beach Relay.
OGSLSC teenager Mackenzie Hopper won gold in the Under 17 Taplin event.
An Under 14 team of Lilly Hallam, Tia McNaughton, Zoe Honey, Jess Paranavitana, Mietta Morgan, Georgia Borschmann and Alice Moon all won gold..
Popular locals Gabby Hannan and Felicity Abfalter came second and third respectively in the Under 19s ski and claimed silver and bronze medals.
In the men's Ocean Grove had three teams in the top six in the 3 person Taplin Relay final with 1,2 and 6 finish.
Star OGSLSC competitor Campbell Bohan won the Under 19s single ski and ski relay events.
IN other developments, Ocean Grove SLSC is one of two clubs in contention for the Victorian Lifesaving Junior Championships state champion honour – the other club is Mornington Life Saving Club.
The Junior State titles took place in Lorne on 23 and 24 February and OGSLSC lead overall point tally scores before the Rescue and Resuscitation (R&R) events were held.