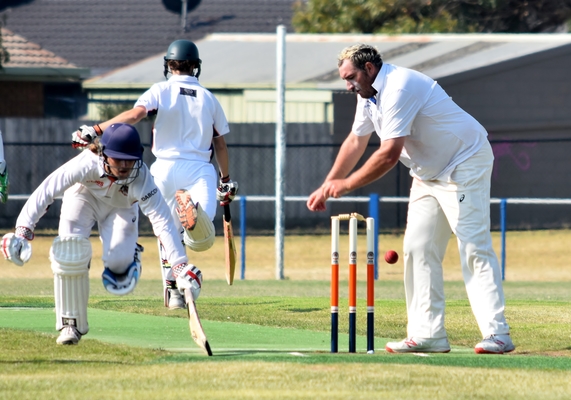 By Mark Heenan
Collendina A1 captain Nathan Walter conceded the Cobras' 106-run loss to BPCA finalists Barwon Heads on Saturday was a poor way to finish season.
Chasing for 258 for victory after Barwon Heads was all out for 257, the Cobras were dismissed for 151 from 67.2 overs on day two.
The Cobras set a good platform and were 2/82 before they crumbled and lost last eight wickets for 69 runs.
Collendina's middle order collapsed and at one stage the Seagulls took five wickets for seven runs.
Nathan Walter scored 44, while opener Kade Norquay contributed 26 and youngster Max Sutton chimed in with 30.
"It was a disappointing way to end the year for sure – obviously Barwon Heads are a quality side and we don't take anything away from them at all," Walter told the Voice.
"We were 2 for 80 and were sort of cruising along and then I threw my wicket away.
"No one was willing to (get themselves in) – they were all trying to play big shots and I think there were three wickets caught skying the ball to mid-on."
Walter paid credit Barwon Heads bowlers Sam Schaller (1/49) with his 13 maidens from 27 overs and Luke Schilling, who took five wickets or more against the Cobras for the second time this year.
Schilling tore through the Cobras middle and lower order and finished with 5/21 from 17.2 overs.
On January 12 Schilling snared 6/38 against Collendina at Barwon Heads.
"Schaller builds pressure at one end…Schilling bowled a good line and length all day," Walter said.
"Schaller's bowling at the other end sort of brought our guys unstuck – because he was bowling maiden after maiden and Schilling reaped the rewards I suppose."
Schaller had a dominant game and compiled a well made 79 on day one.
The Barwon Heads top and middle order batting delivered ahead of the finals with opener Lewy Hyland (27), Brad Michell (42) and Luke Michell (35) all making fine contributions.
Walter was the leading wicket-taker for the Cobras with 4/51 from 15 overs, while Charlie Lamb (2/59) and Jacob Gasior (2/72) each took two wickets.
Gasior bowled 23.3 overs.
Collendina finished the A1 season in seventh spot with three wins and nine losses and two draws.
Second-placed Barwon Heads will now meet Ocean Grove in a home semi-final at Barwon Heads, which begins on Saturday.
IN B1, Barwon Heads scored a comfortable victory over Collendina in a low scoring game two-day game at RT Fuller Oval.
The Seagulls bowled out the Cobras for 66 on day ones.
It was Collendina's lowest total this season.
In reply Barwon Heads finished at 7/94 from 29.5 overs.
Daniel Worn was the pick of the bowlers for the visitors with 3/26 from 10 overs.
The Cobras finished the season on the bottom in eighth spot in B1 with three wins and 11 losses.
QUEENSCLIFF defeated Collendina by 137 runs in their C2 two-day clash at Bellarine Secondary College's Ocean Grove campus.
The Coutas dominated with the bat and made 322.
Queenscliff batsman Doug Jarvie blasted an impressive 122, while Cobra bowler Clynt Combridge took 6/110 from 24.3 overs.
Combridge has snared 18 wickets from his last two matches.
In reply Collendina was all out for 185 with opener Julian Wilson the standout with 57.
The Cobras missed the C2 finals and finished in fifth spot with five wins and nine losses.
AN unbeaten century from Cobra opener Peter Mohr guided Collendina to a seven-wicket win over Little River in their D Grade clash at Rees Reserve.
Batting first Little River finished at 9/205 from 40 overs.
Mohr retired on 103 not out as Collendina won with six overs to spare with.
The D Grade Cobras finished third and will play Queenscliff in a knockout semi-final one-day game this Saturday.