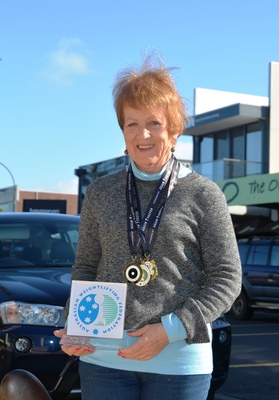 By Justin Flynn
Most Ocean Grovers known Elaine Janes as the 'owner' of Flapper, the town's resident celebrity chicken.
But Ms Janes is also a champion weightlifter and at the age of 72, recently won a string of medals at the Australian, Oceania Masters and Open Master Championships.
Ms Janes only took up the sport when she was 57 and had effectively retired two years ago, but was prompted to compete in the recent event because it was in Melbourne and wouldn't return for four years.
Back in 2003, Ms Janes was promoting bocce for Club Italia at an expo in Geelong and she saw the weightlifting demonstration nearby.
She strolled over, had a look and was hooked.
"I never told a single person for eight months what I was doing," she told the Voice.
"I was entering Vic comps and setting records, but never told anyone."
Ms Janes weightlifting career has spanned five World Masters Championships, taking her to Greece, Cyprus, Poland, Italy and Darwin.
"It's a long way to go to do six lifts and come home and it's a lot of money," she said.
"But anything I make my mind up to do, I do it.
"People say 'you're too old, you shouldn't be doing that', but my coach (Michael Torriero) would not let me go out there and make a fool of myself. I'm not too old."
At the recent competition, Ms Janes won her age group competition.
"I was in the mood, I was on fire," she said.
"I retired from competition last year because I can't afford it – it costs a lot of money.
"But I got talked into it because it was in Melbourne and coach Michael pushed me because I was lifting well.
"It was good to be out there with the top Australian weightlifters after two years and wearing the Australian uniform after five years."
Ms Janes recommended weightlifting to anyone who is curious about the sport.
"You do become addicted to weightlifting," she said.
"It takes a while to get the hang of it. It takes dedication and commitment.
"It great for bone density and blood pressure and you not only make your body strong, it makes you mentally strong."