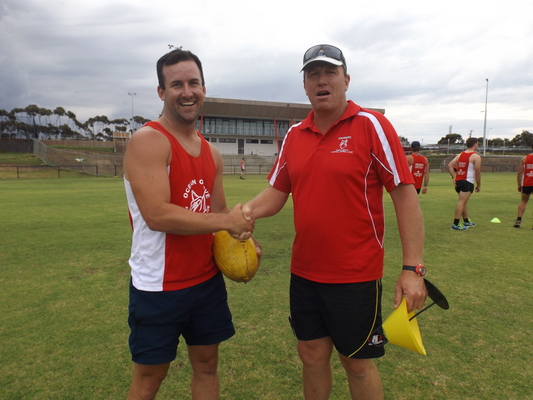 FORMER St Joseph's GFL player and new Grubber recruit Mick King took part in Ocean Grove Football Club's first pre-season session for 2016 last week.
King, 30, brother of new Ocean Grove Football Club senior playing assistant coach David King who joined the club late last year, were both members of St Joseph's GFL reserves' exciting 2015 premiership triumph.
"It is exciting to get into the Bellarine Football League, I have always wanted to play down here," King told the Voice last week.
King, an Armstrong Creek resident, brings a wealth of interstate football experience to the Grubbers after a stint at the Mount Isa Tigers Football Club in far north Queensland.
More recently King had a playing stint with the Rovers Football Club in Geraldton in the Great Northern Football League in Western Australia.
Up to 30 players turned out for club's first pre-season training session of 2016 at Shell Road on Wednesday 27 January.
Ocean Grove Football Club is scheduled to play the first of its three practice matches against Beaumaris on 5 March.
Another two practice games will take place with a clash against Daylesford on 11 March, followed by a twilight night game against GFL club Lara on Thursday 17 March.
All practice games will be played at Shell Road.