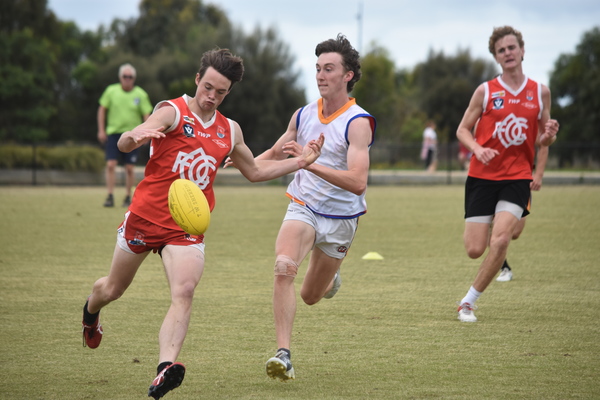 By Justin Flynn
Ocean Grove coach Pete Davey said his side cannot wait to play its round one Bellarine Football League clash against Torquay.
The Grubbers travel to Spring Creek Reserve for their opening match on Good Friday starting at 4pm.
Ocean Grove lost its final practice match by three goals against Ballarat Football League side Melton South on the weekend.
"The end result was three goals but there were a lot of really good signs," Davey said.
"We had a number of quality senior players out but our system stood up and we were able to kick nine goals against an opposition who plays at a higher level than us."
Joe McDonald's form against the Panthers was encouraging while youngsters Kobe Annand, Caleb Mutsaerts and James Paterson impressed.
"We've taken steps forward in each practice match so far," Davey said.
"It's been frustrating not having consistency of selection with several senior players missing each game but it's also allowed us to play guys who may not have had the opportunity had everyone been available.
"A few players have pushed their case for selection in round one simply by proving that they are capable of playing the role asked of them within our team setup."
Davey said the selection committee faced a tough task ahead of the blockbuster clash against the Tigers.
"We'll work out after this weekend what our round one side looks like but we're about coaching a team based system that doesn't rely on any one individual to play above themselves," he said.
"Whatever combination we come up with will give a very good account of themselves."
Huge crowds are expected for all round one games, with Easter holiday makers tipped to swell the usual numbers. Add that local footy fans haven't been able to see their teams play since 2019 and it all points to unprecedented numbers.
Community football clubs and leagues will be allowed crowds of up to 5000 without needing to go through the public health approvals process.
The Torquay vs Ocean Grove match has the potential to draw the biggest crowd of the round.
"Playing a premiership fancy in a marquee fixture in front of what I imagine will be a decent crowd will be enormous for our group," Davey said.
"It's only one game, but it's probably worth an extra half dozen games of senior experience and we can't wait for it."