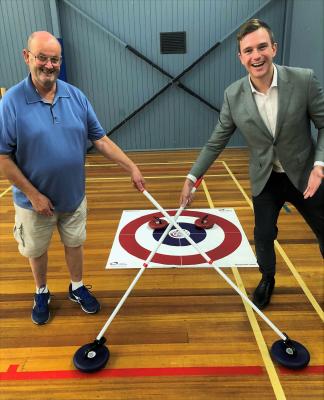 Floor curling has arrived in Ocean Grove.
Floor curling is a modified version of the Olympic sport of curling that allows the game to be played without ice.
The City of Greater Geelong awarded a $1850 grant to Ocean Grove Memorial Recreation Reserve management committee to help them establish the sport.
About 30 people took part in the recent launch of the sport at the Memorial Hall, including deputy mayor Trent Sullivan.
"Our 2020-21 Healthy & Connected Communities grants helped almost 70 groups and organisations carry out their vital community projects," Cr Sullivan said.
"We're glad the council grant has provided an opportunity for the hall committee to create another fun and lively activity for its members.
"The Memorial Hall is home to one of the busiest recreation programs in Greater Geelong, with more than 50 hours of classes and games each week.
"The addition of floor curling is another great reason for residents to enjoy each other's company and take part in some friendly banter and competition."
After Easter, the committee plans to run a session every Thursday afternoon between 2pm and 3pm at Ocean Grove Memorial Recreation Reserve hall.
"The committee felt that introducing floor curl would be a good addition especially for those unable to partake in the hall's more physical activities," Ocean Grove Memorial Recreation Reserve management committee president Peter Brown said.
Currently badminton, calisthenics, pickleball, soft tennis, table tennis and metafit use the hall for more than 50 hours a week.
To get involved, contact Mr Brown on 0410-554 345 or pmb12@optusnet.com.au.