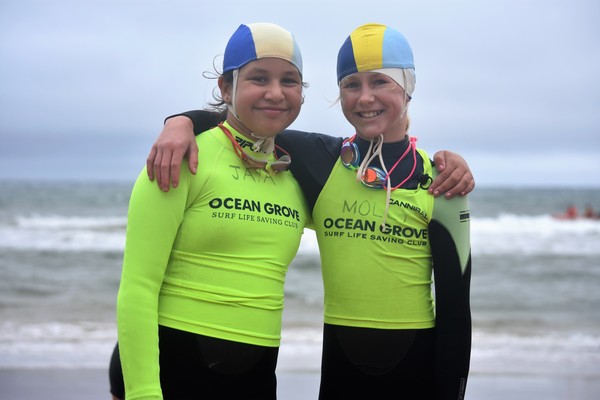 By Mark Heenan
By Mark Heenan
Ocean Grove Surf Life Saving Club Nippers warmed up for the Victorian Junior Lifesaving Championships in March with strong performances at Jan Juc this month.
The three-day state championships will take place at Warrnambool from March 7-9, across the Labour Day long weekend.
Around 117 OGSLSC junior competitors braved the windy and testing conditions along the Surf Coast at Jan Juc Surf Life Saving Club on Saturday 15 February.
Ocean Grove SLSC junior activities member Peter Walsh was impressed with the spirit of how well its club Nippers competed in difficult conditions.
"117 kids participated at Jan Juc in very testing conditions – wind, rain and increasing swell throughout the day," Walsh told the Voice.
"All of the Ocean Grove Nippers performed at a high level across a number of events."
Ocean Grove finished overall in second place with 46 points, nine points behind host club Jan Juc SLSC which topped table honours with 55 points.
Melbourne based Mentone Life Saving Club came third with 41 points.
Highlights included Ocean Grove teams finished first and second in the Under 12s Boys Aqua Cameron, local Nipper Ruari Davison sacrificed his own race and stopped in the individual Under 13s board semi-final to check on team-mate Luke Bird who was injured.
The Ocean Grove Team B trio of Sarah Pounder, Matilda Richards and Niamh Partridge won the Under 13 Girls Beach Relay final.
Local Hugo Walsh won the Under 12s Boys Surf Race final.
Ocean Grove Under 12 Boys came second in the Surf Teams final.
THE Jan Juc based Life Saving Victoria junior event was the penultimate Nipper carnival before next month's state junior lifesaving championships.
Some Ocean Grove junior competitors headed to the Mornington Peninsula based junior state carnival at Point Leo on Sunday 23 February.