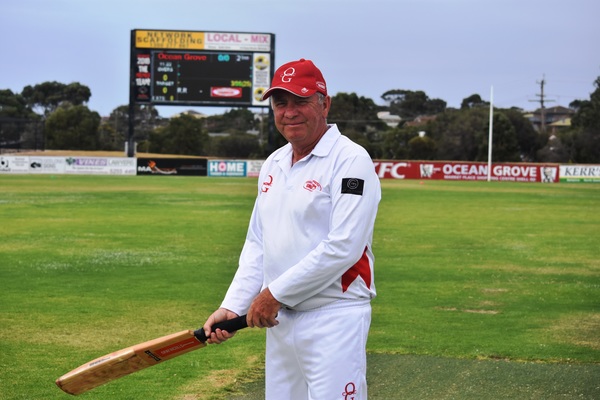 By Mark Heenan
Legendary Ocean Grove Cricket Club figure Craig D'Arcy celebrated his 500th game milestone in fine style with the Grubbers' D Grade 15-run win over Wallington on 3 March.
The first Sunday of March was a celebration of D'Arcy's popular journey at the Grubbers which has spanned 42 years.
Retired Grubber cricketers pulled on their whites to share in the special day to play alongside D'Arcy in the one-day clash at Ray Menzies Memorial Oval at Shell Road.
"There was a lot of old players that came back and joined for the day which was great," D'Arcy told the Voice.
D'Arcy, 67, played an integral role in the win, he opened the batting and scored 29.
The Grubbers made 8/179 from 40 overs batting first, in reply Wallington was all out for 164 from 39 overs.
D'Arcy thanked Wallington Cricket Club for moving its D Grade home match against Ocean Grove to Shell Road to mark the occasion.
"It was fantastic, it was their home game too, they agreed to change it here and play on the Sunday which is sensational by them," D'Arcy said.
He paid tribute to his wife Kay, for her ongoing support and her off-field volunteer work at the Grubbers.
"My wife is not a cricket fan at all, but she has made over 500 afternoon teas, she hates doing that and washing the whites every week," laughed D'Arcy.
D'Arcy was recruited as a star batsman when he left Geelong City at age 25 and joined Ocean Grove. He also played a key role as a wicket-keeper at the club.
A six-time premiership player with the Grubbers, he had stints as a president, treasurer and secretary.
He is a long-time junior cricket coach at Ocean Grove for 35 years and has an award named in his honour with the player of the BPCA C1 Grand Final awarded the Craig D'Arcy Medal.
There is even an Under 15 division in the Geelong Junior Cricket Association named after him.
Bellarine Peninsula Cricket Association president Ian Caldwell said D'Arcy was a true gentleman of the game.
Caldwell said his role with the BPCA had been enormous with duties as association vice president and a junior country week cricket coach.
"Craig's leaves a fantastic legacy," Caldwell said of D'Arcy, a BPCA life member.
"Craig has been heavily involved in junior coaching both looking after teams at Ocean Grove and also involved at junior country week and he has done that for over 30 years with his involvement at junior level.
"He is a well-respected gentleman and an icon of the BPCA."
D'Arcy was the fourth player to reach the 500 club game milestone in the BPCA – he joins John Dunne (Newcomb), Les Menzies (Ocean Grove) and a current Drysdale player Rob Malcolm.
Caldwell also played in his 500th game for Portarlington at Barwon Heads at Portarlington Recreation Reserve on 9 March.