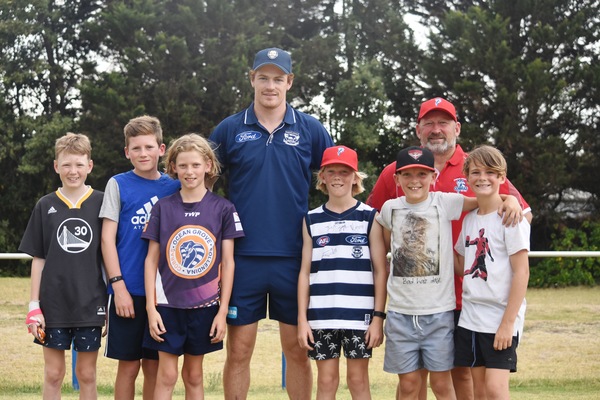 New Geelong AFL recruit Gary Rohan was king of the kids at the Ocean Grove Cobras Junior Football Club annual Gala Day season launch this month.
Rohan, 27, who joined the Geelong Cats in the off-season after 106 AFL games with the Sydney Swans recently relocated to the Ocean Grove region.
Rohan said it was nice to pass on some tips to enthusiastic Cobra youngsters, learn about the town's growing junior football club base and experience Ocean Grove's relaxed coastal lifestyle.
"It is my first Cobras experience," Rohan told the Voice.
"My wife and her family always come down and did holidays here, when I was deciding to come back me and the wife decided to come live out here – nice and relaxed town.
"I go into Geelong and do what I need to do there and train and then come out here and switch off…so that is why we come back to Ocean Grove."
Rohan was joined by fellow local and Carlton AFL youngster Sam Walsh, who attended the season launch on 3 March.
The ex-Swans AFL utility said it was fantastic Walsh had a promising off-season start at Carlton after his selection at number 1 in last year's national AFL draft.
Rohan has known Walsh since he was a young child with the pair growing up in Cobden, in Victoria's south west.
Rohan was coached by Sam's father Wayne Walsh, a former Ocean Grove senior coach, at Cobden.
Walsh collected 28 disposals in a dazzling performance in the opening game of the JLT Community Series against Essendon on 28 February.
"I have known Sammy since he was a little tacker wearing Simon Black's number in the Brisbane Lions jumper – Wayne was my senior coach at Cobden," Rohan said.
"I have known the family very well and he has started well Sam – I can guarantee he is going to have a great career."
Hundreds turned out for the popular ' season opener at Minerva Close at Collendina Recreation Reserve put on by volunteers of the Ocean Grove Cobras Junior Football Club.
Ocean Grove Football Netball Club personnel attended including new senior playing coach Jordan Jones.
Senior Grubber players helped shaped the future Ocean Grove Cobras football youth and were on hand to assist with handball drills and kicking competitions.
Other activities included skills and fitness sessions, jumping castles and team games.
OGCJFC president Shaun Stow said the Cobras will field 16 teams in 2019 and welcome over 200 Auskickers.
"It is safe to say that junior football is absolutely booming in this town," Stow said.
The OGCJFC season commences on 26 April.