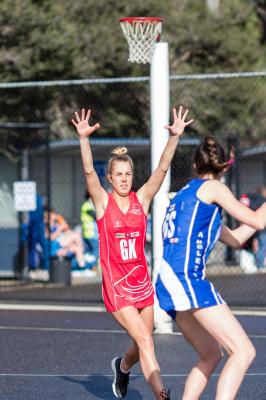 By Justin Flynn
Kelsey Ollis capped off a dominant season in defence by winning Ocean Grove's inaugural Candice Parker Medal for the A Grade netball best and fairest.
The consistent goalkeeper won the award with goal attack Maddy White coming in as runner-up.
In B Grade, club coach Nikki Cooke took home the award from goal-shooting youngster Kimberley Hart while Gemma Bell was crowned the C Grade best and fairest from Megan Bothe.
Kellie Morrish won the D Grade award from Michaela Giblin while Terri Anne Finch emerged victorious in E Grade from Isabel Wilkins.
Zoe Murrells won the 19 and under count from Amelia Hallam.
Ollis said she felt she had an "up and down" season.
"Personally I think it got better towards the end," she said.
"It was very hard going in and out of lockdown and hard to maintain any sort of consistency.
"But the team all signed for next year so it's looking like we'll pick up from where we left off."
Ocean Grove's A Grade side won its elimination final and was peaking at the right time just before the season was cancelled.
"We always thought the end of the season was going to be where we performed the best," Ollis said.
"It was a shame it finished. I've never won a final at Ocean Grove. That was the first final win for me and some of the girls.
"I think it gives us good confidence to know we can win a final and gives us confidence going into next year."
Ollis said White's effort in being runner-up in the best and fairest was remarkable given she missed many games.
"Maddy is phenomenal," she said.
"She had an in and out start with holidays – she missed a lot of games and she polled well."
Ollis said that a premiership was "the expectation for all five grades next season" and named Anna Smith and Emma Badrock as two up and coming players who improved this season.
Ollis said Modewarre goal shooter Kathryn Vickers and Geelong Amateur's Ruby Watson were her toughest opponents.
"Kathryn Vickers is so strong and agile and uses her body really well and she's very quick, tall and strong," she said.
Had the season been able to continue, Ollis gave her side a genuine chance of going deep into the finals.
"I think we would have made the grand final and given Geelong Amateur a run for their money," she said.
Justin Flynn