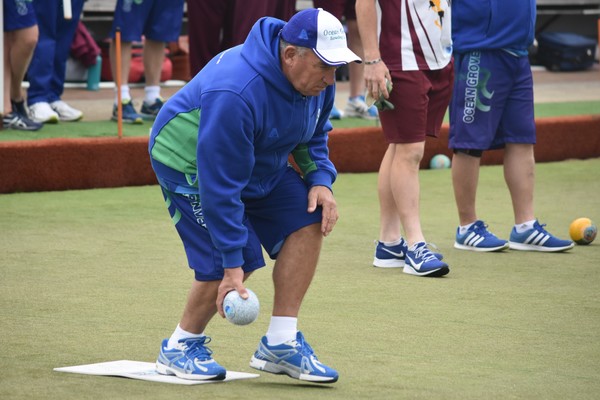 Round one of both Saturday and Midweek pennant kicked off this week in fine style for the Ocean Grove top division teams.
Lining up for the first time in 20 years in a Geelong only Premier Division competition the reigning premiers met last year's semi-finalists Bareena in their round one match up.
Five players departed Ocean Grove's champion team which then presented opportunities to Heath McLaren, Glenn Baudinette and current U18 Victorian representative Grant McLaren all joining from Colac Lake BC.
Owen Clark and Rod Brehaut returned to the line-up after a season skipping the club's Division One side to a grand final.
In a round one game that was worthy of a final with scores neck and neck for the majority of the 100 ends the home side went into the final end two shots in front.
Brian Boyle, Rod Brehaut, Ken Thomas and Brad Pavey stood tall to play a great end which managed to shut
down any chance Bareena had to score the double to even draw the game. Pavey skipping his first game of Premier Division bowls displayed maturity beyond his years in the closing stages to lead his side to a 28-19 rink win.
Will Collihole along with Tom Warren, Heath McLaren and Glenn Baudinette managed to get the points in another close tussle 23-18 which was enough for the Grovers to register a round one win.
The off season provided another contentious issue across the Geelong Bowls Region when the decision was made to promote both last year's grand finalists. This meaning for Ocean Grove they would then field two teams in the highest division of Saturday pennant.
This will provide the Ocean Grove side two an exciting challenge which has been reward for making the past two season's final game.
Highton in round one away from home was the first challenge, with only 10 shots separating the two teams after the full amount of ends it was a competitive start for the Premier 2 side.
David Rudge, Steve Parry, Faye Richardson and Brian Smith got the two points for the visitors 26-20.
Division Two acclimatised early to their new level of competition after being promoted from Division Three last year.
Clifton Springs top side arrived at Ocean Grove wanting to make an early statement but any round one plan was quickly turned around by Ocean Grove's Steve Bryant, Carol Howarth, Geoff Fry and Trevor Turnley who clearly had a different plan on the day. Their performance dominant as they carded a 35-15 win which set up the overall margin to fall the way of the home side. John Izzard chipped in for a solid 20-16 win which got the 14 match points.
It was a case of Peter power in Division five when Peter Eberle, Andra Kuschert, Peter Corcoran and Peter Kuschert made sure the points would stay with the home side in round one. 34-13 a great first up result which was supported by Marianne Rogan's team with their 27-15 victory. Overall 99-82 winners against Torquay.
Division Six travelled to Geelong Cement.
Two rink wins to David Harvey and Lyn Stonehouse ensured their side would return with smiles as they got off to a 93-81 win.
Bob Bone was all smiles as his team of Ralph Skipper, Ian Walker, Trish O'Brien made it two from two for the teams that played at Geelong Cement. Clearly from end one, Bone and his troops found the green to their liking to record a 45-13 win which was enough to earn themselves the match day Kings of the rinks.
Ocean Grove's Midweek Division One side will be looking to go one better than last year's runner up.
Two new additions to the top side made their debut in round one against St Leonards.
Jenny Keep took charge of a rink and did not disappoint in her first outing in the Grove colours. Keep steered her side of Adele Ryan, Garry Redford and Garry Bowyer to a 28-17 win while on the rink next door Jo Whitehead also got the opportunity to step into the skip's role for the first time.
Elaine Price, Jeff Howarth and Brian Smith laid the foundation for Whitehead as they won 10 of the last 12 ends to record a 33-13 rink win.
Whitehead is enjoying a good run of form as last week was crowned the Geelong Region Ladies over 60s Singles Champion.
Three rink wins with Faye Richardson by 13 got the two time state pennant champions off to a flyer.
If you were reading the results for the first time you might have thought there was an error on the cards but for Ocean Grove Division Two it was not the case. Two massive rink wins in their favour against Torquay resulted in a big first up win 107-35.
Patricia Virtue and her awesome foursome of Dawn Cooknell, Kim McConville and Ian Donald were in total control on their way to a 48-4 result. Equally as impressive Lorraine Hunt led David Rudge, Shirley Olsen and Norm Thomas to a 38-2 result.
Betty Wilding, Bryan Olsen, David Stonehouse and Terri Rudge almost got the result swinging Ocean Grove's way in Division Two side 3. 37-16 a great day out and a big positive as they move into round two.
Playing at home in round one against Lara, Lizzy Braley found the green to her liking as she guided her team of Mavis Harling, Marg Dower and Anne Way to a big 22-shot win 32-10. The win was enough to cover the narrow losses in the other two rinks and win the majority of match points on the day.
Two rink wins out of three proved enough to get the Division Five side over the line. Shelley Westlake plus eight and Marene Turnley plus five accounted for their Portarlington opponents to steer the team to 14 match points and another great round one result.
Nothing could separate Ocean Grove and Anglesea in Division Five as Grove's side six team returned home with the overall points split at 70-70.
Lorraine Oliver's team finished off the game and carded a one on the last end to tie the scores overall.
Loretta Curwood, Val Bryant, Peter Crammond and Trish O'Brien almost got the team over the line with their 29-22 rink win.
Don't forget; get your entries in for the Victorian Open. The club have a week off pennant in mid-November so why not challenge yourself with a trip to Shepparton? Win lose or draw you are guaranteed a great week of bowls.