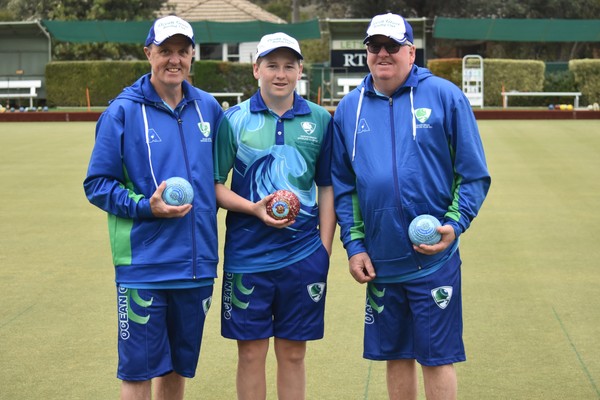 By Mark Heenan
Meet the Colac-based region trio and new Club Grove bowls recruits who are driven to succeed in the newly revamped Geelong only premier bowls division.
Victorian Under 18 representative Grant McLaren, his father Heath and Glenn Baudinette will fill three new roles in Ocean Grove's Premier Division One team for the 2019/2020 season.
All three players made their debut in Ocean Grove's Round 1 season opener against Bareena at Club Grove on Saturday.
Heath McLaren, a dairy farmer in Beeac which is a 20-minute drive north of Colac, meets son Grant, 17, and Glenn Baundinette in Beeac before they make their 1 hour plus journey to play bowls in wider Geelong.
Baudinette had played with former Geelong-Ballarat premier division club Sebastopol in Ballarat.
Current Ocean Grove Bowls Premier Division One Bowls Skipper Will Collihole also hails from the Colac Bowling Club.
"We normally meet at Beeac which is 20 minutes from Colac and then either one of us will drive the rest of the way down here," Heath told the Voice.
"We all played at the same club (at Colac Bowling Club) myself, Glenn and Grant."
Heath said he and his son Grant and teammate Glenn were all keen to play in the stronger Geelong based premier division bowls competition.
"Just the challenge of trying to see how good (we can go)," he said.
"It is a better competition and (we) wanted to see if we can make it.
"You have got to be thereabouts with nearly every bowl here."
Heath said he liked what he saw during Ocean Grove's memorable premier division bowls grand final win over Queenscliff last season.
"We went to support a few of our mates and it was a big day," he said.