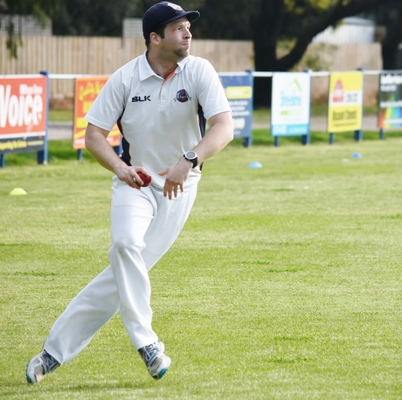 By Mark Heenan
Star Collendina cricketer Nathan Walter's immediate playing future remains in limbo after he suffered a knee injury in the Cobras A1 Round 1 loss to Anglesea on Saturday.
Walter, Cobras A1 captain, was forced to retire hurt on 19 when his right knee collapsed at the batting crease.
At the time, Collendina was in pursuit of 148 for victory in their season opener one-day clash at Ellimatta Reserve at Anglesea against last season's A1 grand finalists.
Walter, who was carried from the ground, will consult with a physiotherapist this week to determine the extent of his knee injury.
"I will go to the physio on Wednesday (this week) and he will decide if I get scans or not," Walter said.
"The nurse/doctor at the hospital (on Saturday) just did a bit of an assessment and she said with it being so much swelling it will depend on how bad the tear is.
"I don't know if my season is over yet."
Walter, the only BPCA A1 cricketer who made 500 runs plus and also took 20 wickets last season, said he felt a pop in his back leg when he launched into a cover drive.
"I think we were about 1 for 50 or something and I was starting to hit the ball alright and then I played a cover drive and it (the knee) went behind me as my back leg," Walter told the Voice.
"My right knee felt a 'big pop' and felt like someone had kicked my knee in and I went down and I carried on a bit and had a couple of blokes under my arms carrying me up."
He praised Anglesea for their help in him being carried from field when his knee gave away on the pitch.
MEANTIME an under strength Collendina restricted Anglesea to 7/147 from its 40 overs.
Both Walter (2/34) and Craig Goodger (2/33) each took two wickets.
Anglesea middle-order batsman Ty Norman top scored with 41 not out.
In reply Collendina was all out for 83.
Star Anglesea opening bowler Dale Kerr and Dylan Taylor bowled tight lines though both were unable to take a wicket.
Talented spinner Joseph Lynch did the bulk of damage with 3/7 from seven overs, while Brett Venables chimed in with 2/17 from eight and Ky Eskrigge took 2/13.
The Cobras were without key batting trio Ben Ricardo, Max Sutton and Sam Beasley.
COLLENDINA will now meet cross town rivals Ocean Grove at home in their Round 2 one-day game this Saturday 12 October at the Snake Pit.
C1
COLLENDINA'S second XI defeated a Barwon Heads third XI by 123 runs at Collendina Reserve on Saturday.
Batting first the Cobras posted a competitive 5/243.
Scott Grant top scored with 72, while Steve Blackman remained 41 not out and opener Craig Jeffrey chipped in with 38.
In reply Collendina restricted Barwon Heads to 6/120 from 40 overs.
Nathan O'Neil was the most successful bowler with 2/19 from seven overs and he also took a superlative running catch in the field.
C2
INVERLEIGH comfortably won by eight wickets against Collendina at Bellarine Secondary College's Ocean Grove campus on Saturday.
Batting first the Cobras were restricted to 9/96 from 40 overs.
In reply Inverleigh made 2/101 from 16 overs and won with 24 overs to spare.