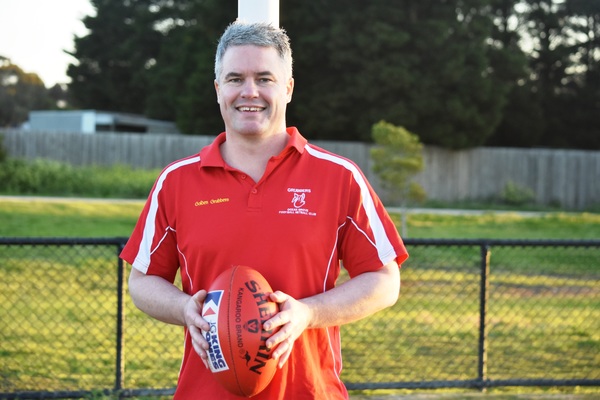 By Mark Heenan
Legendary Grubber coaching figure Brendan McCartney will assist new Ocean Grove Football Club senior coach Pete Davey in a mentor role for the 2020 season.
McCartney, who coached the Grubbers to four consecutive senior premierships from 1994 to 1997, will help train and mentor the club's junior coaches alongside Davey.
"Brendan's role will be to train the junior coaches, so he has implemented a program through the AFL that he has designed himself," Davey told the Voice.
"It coaches the coaches to train kids properly."
Davey said it would be a bonus to learn and work alongside McCartney at Ocean Grove.
McCartney, based in Barwon Heads, coached the Western Bulldogs in the AFL from 2011 to 2014 and worked with AFL club Melbourne's coaching department for five seasons from 2015 to 2019.
"That was one of the other reasons I did come down for the opportunity to be mentored by Brendan," Davey said.
"He has been kind enough to open his door whenever I want to go to his place and talk footy.
"As a side component of that I will just liaise and he will do some mentoring work with me which isn't facilitated by the club (Ocean Grove) it is just more him being an ex-coach.
"The contact that got me into Ocean Grove was mentored by Brendan as well."
Davey was recommended by his existing coaching mentor Garry Ramsay, who was also mentored by McCartney.
"Garry Ramsay said to me 'Look Pete, you have just got to talk to this guy because he is fantastic and he'll be great for your coaching and great for your footy knowledge,'" he said.
MEANTIME Ocean Grove Under 19s coach Matt Tyrell, a four-time Grubber premiership coach, revealed McCartney last month had spoken with his players two days before they won the Under 19 Division Two flag on 14 September.
"He (McCartney) came and had a chat to us on the Thursday night," Tyrrell said.
"It was good to see him and I hadn't seen him for years – he was a pretty powerful speaker."See page 28 for Mark Heenan's Q&A session with the new Ocean Grove coach.